Victims of Dersim genocide remembered
A tribute was organized in Seyit Riza square to honour the dead of the 1937 massacre.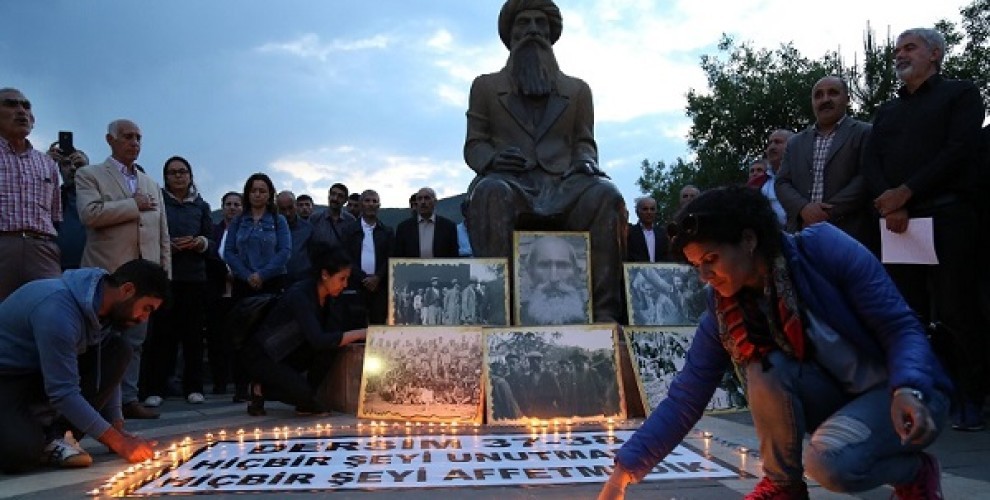 The Democratic Alevi Associations (DAD), HDP, EMEP, the Amed Branch of the Alevi Bektashi Federation 'Pir Sultan', the Socialist Councils Federation (SMF), Federation of Dersim Associations (DEDEF), the Federation of European Dersim Democratic Union (ADEF) organized a tribute to Seyit Rıza in Dersim, Seyit Rıza Square. Seyit Rıza had been hanged at 19.38 of 4 May.
Photographs of massacre were exhibited in front of the bust of Seyit Rıza where many representatives of the organizing groups gathered. "We have not forgotten, we have not forgiven", said the banner opened in front of the bust, while the 1937-38 date was written with candles and surrounded by carnations.
When the clock showed the 19.38, those who had gathered to participate to the tribute paid respect to the memory of those who lost their lives in the massacre.
Then a joint press statement was read by artist Nurettin Güleç on behalf of the organizers of the memorial. Reminding that the massacre of Dersim was planned in 1925 and was carried out starting on 4 May 1937, the statement remembered the 10 thousand people who were massacred and the 10 thousand who were exiled.
Güleç reiterated that the people who lived the Dersim genocide knew that its planner was in the Parliament. The artist said: "Similar massacres, crimes against humanity, have been carried out in many parts of the world. However, many of them saw the responsible admitting their guilt and taking responsibility for what they had done. Despite all these examples, however,  we are forced to condemn the narrow and close mentality of a state and government which keep ignoring the Dersim genocide by burying its head in the sand".
The statement was clear about what needs done: "The government must apologize to the people of Dersim. Seyit Rıza, who was executed, and the graves of his friends must be recognized. A museum of humanity should be established in Dersim, and 4 May should become the official memorial day".
After the statement people lamented in Kurmanci dialect of Kurdish.