Victims of ISIS genocide commemorated in Shengal
Victims of the ISIS genocide in Shengal are being commemorated in several events.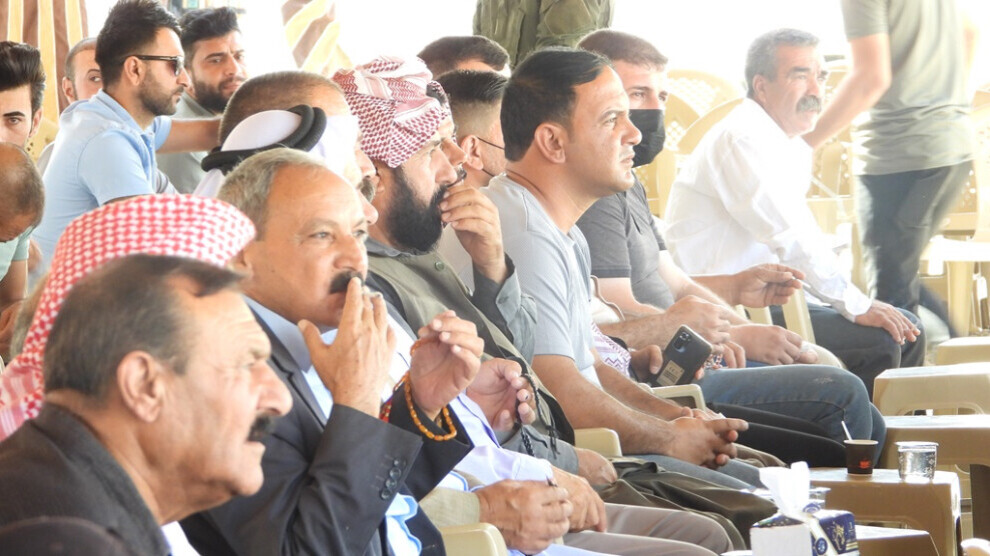 Tribal leaders set up a commemoration tent in the centre of Shengal (Sinjar) to mark the anniversary of the 3 August 2014 genocide by ISIS.
The commemoration, organized under the motto "It is possible to prevent further massacres with the autonomy of Shengal and the unity of the Yazidi people", started at 10:00.
The Shengal Autonomous Administration, the Shengal Women's Freedom Movement, the Shengal Democratic Autonomous Assembly, the Shengal Resistance Units (YBŞ), the Êzîdxan Public Order, the Association of Martyrs' Families, Yazidi Religious Scholars, the Yazidi Youth Union, and many citizens of Shengal participated in the event.
Representatives of the Qayit Emeliyat, the Mixabirate Shengalê, the Midûrê Emir Watani, Midûr Şirtayên Shengalê, Shengal Municipality Director, Shengal District Governor and Shiite representatives Seyid Ciwat and Seyid Mehmud attended the commemoration as guests.
Speeches were made after a minute's silence in memory of those who were martyred in the 74th genocide suffered by the Yazidi community in their history.
Nayif Shemo on behalf of the Eşayiri Delegation, Shengal Governing Council Co-Chair Riham Hesen, Shengal District Governor Fehid, Qeyit Emelyat Spokesperson Eqid Mislim, PADÊ head Emer Salih, Yazidi Religious Scholars Mam Faxir and Seyid Bettuş on behalf of the Teqaddum Party commemorated the martyrs. After the speeches, food was offered to the participants.