Women killed in Turkish attack in Maxmur laid to rest
The three women killed in Turkish armed drone attack in the Maxmur refugee camp earlier today have been laid to rest.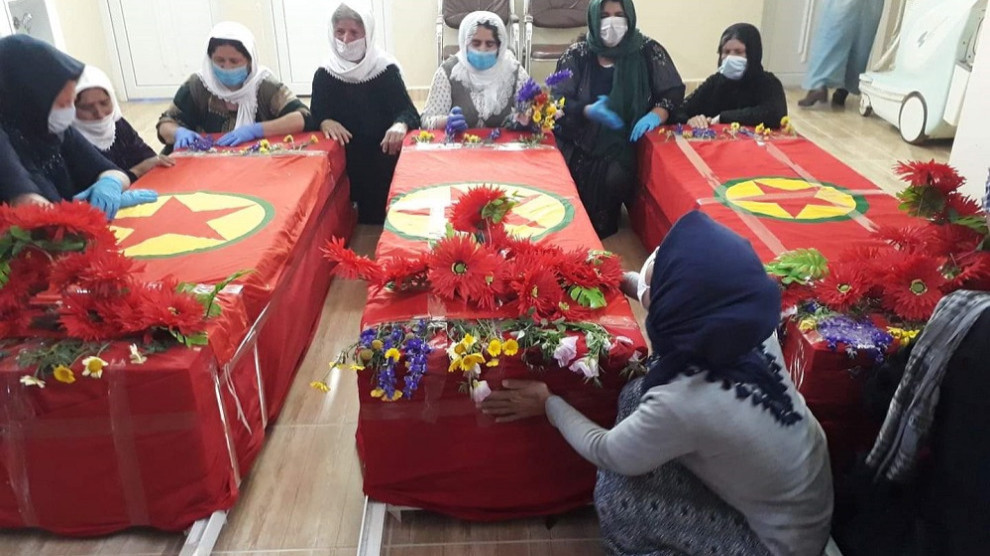 Turkish Armed Unmanned Aerial Vehicles (SIHA) launched a bombardment on Maxmur Refugee Camp in southern Kurdistan, northern Iraq at 13:10 local time this afternoon.
The attack killed three women named Eyşê Ehmed Ferhan, Ezîme Akdogan and Hewa Akdogan. Two of the slain women lost their lives at the scene while the other died later on due to the lack of medical supplies because of the embargo imposed on the camp since July 2019.
Masses joined the funeral procession from the hospital to the cemetery of martyrs. Speaking here, Nuran Sezgin on behalf of Maxmur Democratic People's Council strongly condemned the attack and the silence of the United Nations, the Iraqi government and Federal Kurdistan region in the face of the Turkish state's never-ending attacks. Sezgin remarked that the aim of the attacks is to divide the Kurds and highlighted the urgent need for Kurdish national unity in response to the annihilation and denial policy directed against the Kurdish people.
After speeches, the three women were laid to rest under slogans "Şehit Namirin" [Martyrs are immortal] and "Bijî Serok Apo" [Long live leader Öcalan].
Not the first attack
The Maxmur Camp, founded in 1998, is home to around 12,000 people who were forced to leave their villages in Northern Kurdistan/Turkey in the 1990s due to repression by the Turkish state. The camp is officially under the protection and control of the UNHCR. However, since July 17, 2019, the inhabitants of Maxmur have been subject to a blockade by the security forces of the South Kurdistan's ruling party KDP (Kurdistan Democratic Party) under pressure from Turkey.
This is not the first time the Maxmur Camp has been targeted by the Turkish army. The Turkish Air Force carried out raids on the camp on 6 December 2017, 13 December 2018 and 19 July 2019.