YBŞ fighters killed in Turkish attack laid to rest
The people of Shengal bid farewell to two fighters who lost their lives in a Turkish air strike last night.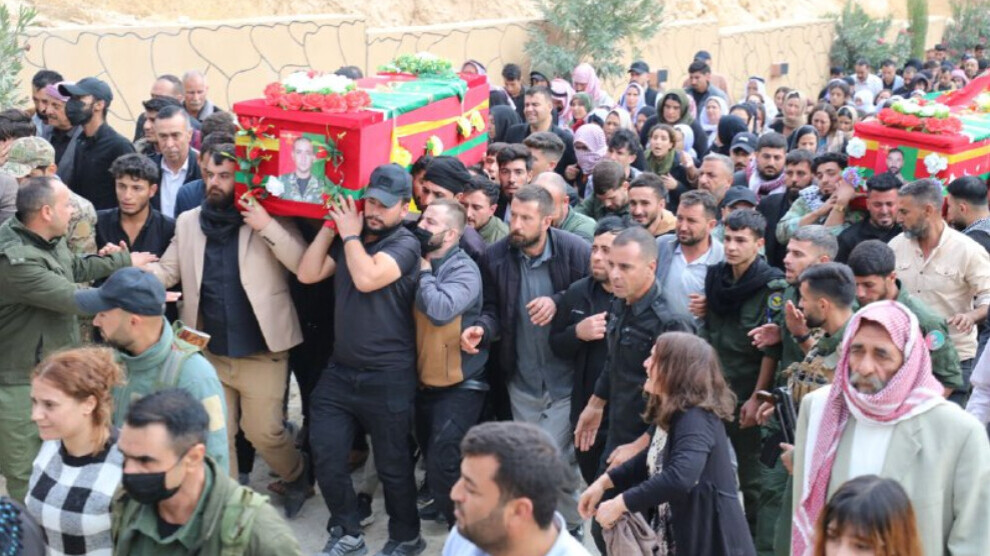 The invading Turkish state has once again targeted the Yazidis on the 8th anniversary of the liberation of their land, Shengal, from ISIS on Monday. The aerial attack by the Turkish army hit a car in the town of Sinun and killed two fighters of the Shengal Resistance Units (YBŞ) amidst celebrations marking the anniversary of the town's liberation.
The fallen YBŞ fighters, Argeş Feqîr and Berxwedan Şengalî, were laid to rest at the Şehit Dilgeş and Şehit Berxwedan Cemetery of Martyrs on Tuesday.
The funeral ceremony was attended by representatives and members of the Shengal Autonomous Administration institutions, tribal leaders and locals.

Addressing the crowd, Qendîl Qîranî from the YBŞ Command denounced the Turkish state's hostility towards the Yazidi community, saying: "Two of our companions were martyred on the anniversary of the liberation of Shengal, a sacred place for the Yazidis. This attack took place at a location next to a position of the Iraqi forces. The fact that the YBŞ was targeted at such a location shows that Iraq is informed about this attack. These attacks are carried out under the watchful eye of of Iraq. A previous attack had also targeted our companions right beside a location of Iraqi forces. Let no one doubt that we will avenge our comrades. No matter how intense attacks are directed against us, we will never take a step back."
Hilwa Feqîr spoke on behalf othe Institution of Martyrs' Families and said: "Let the enemy know that the fallen fighters Argeş and Berxwedan will be replaced and followed by thousands of their likes. We will continue our struggle to the very end. Nobody can set their dirty feet on Shengal or crush the will of the Yazidi people."
Xelef Sîncar from the family of Argeş Feqîr expressed his feelings in the following words: "The martyrs have fulfilled their duties. The Yazidi society is targeted by a new ferman* under a flag every 50 years. Their ambition is to annihilate our people. However, let it be known that the Yazidis cannot be finished off."
After the speeches, Argeş Feqîr and Berxwedan Şengalî were laid to rest to the accompaniment of slogans.