Shengal Autonomous Administration calls for action against Turkish attacks
The people and institutions of Shengal denounce the Turkish attacks against their land and vow to continue their struggle in response.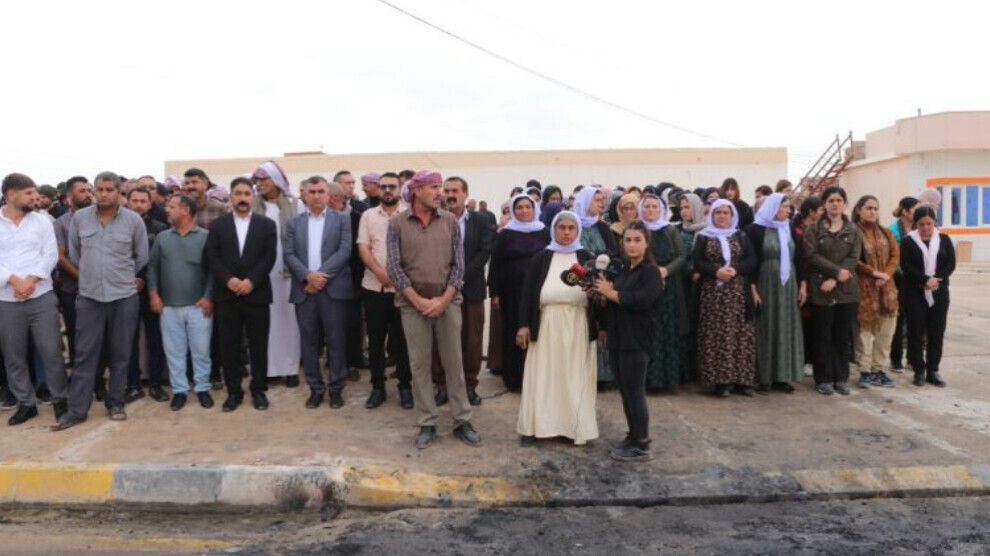 The invading Turkish state has once again targeted the Yazidis on the 8th anniversary of the liberation of their land, Shengal, from ISIS on Monday. The aerial attack by the Turkish army hit a car in the town of Sinun and killed two fighters of the Shengal Resistance Units (YBŞ) amidst celebrations marking the anniversary of the town's liberation.
The Autonomous Administration of Shengal made a press statement denouncing the never-ending deadly attacks by the Turkish regime.

Speaking here, Şême Remo from the Yazidi Women's Freedom Movement (TAJÊ) stated the following: "The enemy carried out this attack on the anniversary of Shengal's liberation and amid the ongoing return of our displaced people from camps in the Kurdistan Region. Those who liberated Shengal from ISIS and those who defeated ISIS are being attacked by the Turkish state. We will not bend our knees before the enemy, whatever the cost. We will never give up our struggle. Our martyrs are a part of us."
The Co-Chair of the Sinun People's Assembly, Seydo Ali, said: "Eight years have passed since the liberation of Shengal and more of our people are returning home. The enemy does not want security and stability established in Shengal. Those who abandoned Shengal and fled in 2014 want Shengal to remain as it was back then. The people of Shengal must stand up and make it clear that they will not hand over Shengal to anyone. We will continue our struggle regardless of attacks."
Background
The Yazidi settlement area Shengal (Sinjar) in the Kurdistan Region of Iraq is the last contiguous settlement area of the Yazidi community. Thousands of Yazidis were murdered and thousands of women and children were taken prisoner in the 3 August 2014 onslaught on Shengal by ISIS militants. While ISIS gangs began murdering Yazidis in Shengal, the Peshmerga left, leaving the Yazidis behind, unprotected. The guerrillas of HPG (People's Defense Forces) and YJA Star (Free Women's Troops) and fighters of the YPG (People's Defense Units) and YPJ (Women's Defense Units) came to the Yazidi people's aid in the face of ISIS aggression. Thanks to a months-long selfless struggle, the city was liberated on 13 November 2015. After the liberation of the city, the HPG and YPG/YPJ subsequently withdrew in 2017. People who returned to their land after Shengal's independence reformed, established defensive units and built their institutions.