YBŞ remembers Yazidi genocide: We will not allow an invasion
"Today, we are ready more than ever to liberate Iraqi lands from occupation together with all the peoples of the region. We will not hesitate to pay a price for the protection of these values and holy lands."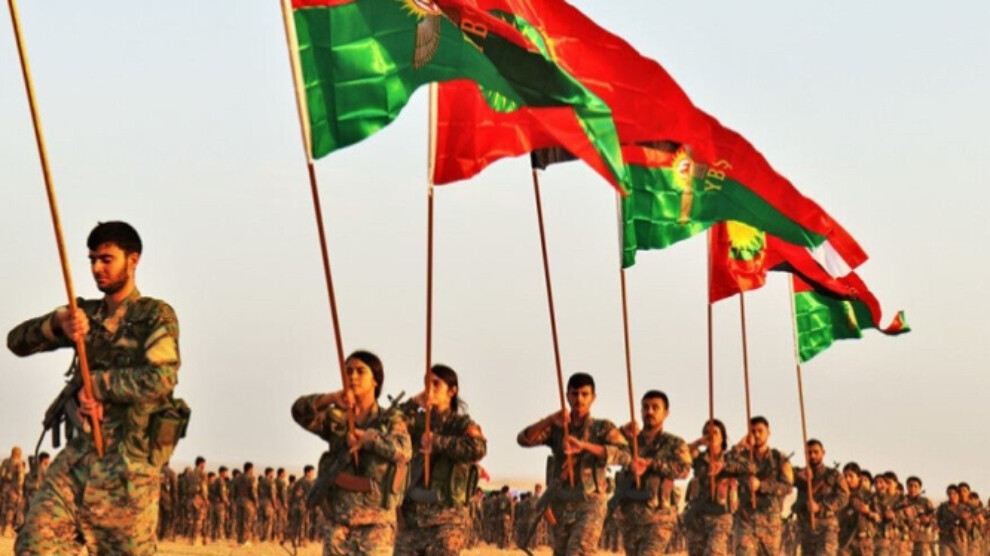 The General Command of the Shengal Resistance Units (YBŞ) released a statement to mark the anniversary of the Yazidi genocide on August 3, 2014. The YBŞ said that they would bring those responsible for the genocide to account.
The YBŞ statement released on Tuesday includes the following:
"We are marking the 8th anniversary of the Yazidi genocide with the same pain and feeling of revenge. First, we commemorate those who were martyred during the genocide with love, respect and gratitude, and bow respectfully before their memories. We reiterate our promise to realize the dream of living freely of those who sacrificed their lives for the freedom of this holy land.
WE REMEMBER ALL HEROES WITH RESPECT
During those most challenging days, we launched the struggle for freedom with our will, labor and blood and organized ourselves. Those who rushed to our help at the time were the militants of Kurdish leader Abdullah Öcalan. We owe those selfless fighters. It is thanks to those heroes that we live in this holy land. We commemorate all HPG, YJA STAR, YPG and YPJ martyrs and bow respectfully before their labor, struggle and memory. The efforts they made for us will strengthen our victory.
THEY WANT TO SUBJECT OUR PEOPLE TO FURTHER MASSACRES
Our entire existence was viciously attacked on August 3, 2014. Our women, girls, children, elderly and young people were massacred using inhuman methods. Thousands of our daughters were captured by ISIS and sold in slave markets, and the whereabouts of thousands of our mothers, children and people are still unknown.
Those pursuing vicious politics over our suffering and wounds and those who want to impose their hegemony on our people with vicious schemes are immorally attacking our people, values ​​and gains today. The betrayal and immorality introduced by the KDP on August 3, 2014 are pervading the whole country through the same people today. With the agreements they have hammered out, they want to subject our people to further massacres.
SHENGAL IN 2014; ZAKHO, KIRKUK AND MOSUL TODAY
Although this agreement was forged to target us in practice, it should be known that these perfidious plans and projects are aimed at the invasion of the whole of Iraq. The invading, genocidal and fascist Turkish state dreams of restoring the borders of its 1920 National Pact. The target is not just the Yazidi land, but the entire region. If this were not the case, they would not target and attack a vast territory extending from the Medya Defense Zones, to Mosul, Kirkuk, Zakho, Syria, Rojava and Lebanon. The people of the region should be aware of this fact and take a united stand against Turkish attacks. The target was Shengal in 2014, and it is Zakho, Kirkuk and Mosul today. The people of the entire region are in jeopardy. If an alliance of peoples cannot be maintained, more massacres like Zakho will occur every day. This plan is based on the displacement of our people and the realization of the invasion ambitions.
WE WILL NOT ALLOW AN INVASION
We have paid a huge price against invasion and massacre at the cost of martyrs such as Mam Zeki, Berxwedan, Dijwar, Nujiyan, Zerdeşt, Agir, Dilgeş, Berivan, Faraşin and Şervan. Today, we are ready more than ever to liberate Iraqi lands from occupation together with all the peoples of the region. We will not hesitate to pay a price for the protection of these values ​​and holy lands.
Just as in the past when people sacrificed their bodies and did not allow an invasion, we will not allow an invasion with the same feeling of self-sacrifice. Backed by our defence forces, our people will thwart all plans and vicious projects of the enemy forces.
ALL YAZIDIS SHOULD RETURN TO THEIR LAND
It is an illusion to think that we will back down in the face of enemy attacks because our sense of revenge is growing day by day. Those who attack the values that were ​​created with the blood of thousands of martyrs should also take some facts into account. We are a force that defends our people. We are the vanguard of this people, this land, our faith, culture and history. Therefore, we call on our people living outside of Êzidxan (Yazidi land) to return to the holy land. Now, we have the power to protect our people from all kinds of betrayal and vicious attacks. All peoples should see that Barzani and his KDP party are on the side of the enemy, engaged in vicious games and manipulating the people for their own interests. Malicious and vicious attacks are being carried out on a daily basis. The reason for this is the continuation of Barzani's and KDP's betrayal.
We commemorate our martyrs once again with all our love, respect and devotion. We will fulfil our promise to realize the dreams of our martyrs as soon as possible. We will follow in their footsteps and realize their dreams and goals. Their path will be the path of victory and success of our people."