A people's leader cannot be in isolation, the resistance goes on!
"The leader of a people cannot be isolated, cannot be subjugated in prison. This is an act of humiliation and shame. This resistance will continue until isolation is ended", said HDP MP Leyla Güven who has been on hunger strike for 81 days.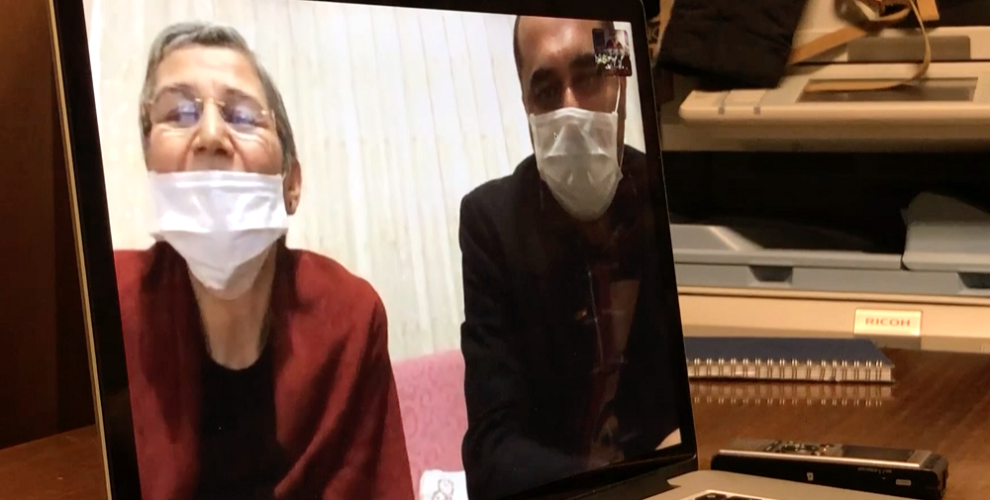 DTK co-chair Leyla Güven spoke with hunger strikers in Strasbourg via Skype.
The HDP Hakkari MP has been on hunger strike for 81days. Speaking on Skype, Güven greeted activists in Strasbourg, Hewlêr, Wales, and said: "I will continue my hunger strike until isolation is removed."
Leyla Güven, who went on hunger strike in Amed prison on 7 November 2018 demanding to end isolation against Kurdish People's Leader Abdullah Öcalan, is continuing to fast in her home in Amed, after being released from prison.
Güven spoke on Skype to the Strasbourg activists who have been on hunger strike for 42 days.
Mustafa Sarıkaya, Gülistan Çiya İke, Dilek Öcalan, Nurgül Başaran, Yüksel Koç, Mehmet Nimet Sevim, Ramazan İmir, Kardo Bokani, Kerem Solhan, Deniz Öngüt, Ayvaz Ece, Mohamad Ghaderi, Agit Ural spoke with Leyla Güven for fifteen minutes.
The Hakkari MP said she was happy with the solidarity shown to her and added that, in fact, she wanted to begin her hunger strike on 14 July at her trial, but this was postponed.
Güven conveyed the greetings of prisoners in Amed jail and added: "Although I have been taken away from Amed prison I am fine. I greet you, I embrace you one by one. I feel all of you close to me."
Saying that she had planned to go on hunger strike earlier, Güven said: "I had previously planned to go on hunger strike on 14 July to revive the epic of Amed prison. However, the prison administration did not bring me to court then. I didn't want to announce my hunger strike with a letter. Because I wanted to cry out at them in court. Unfortunately they postponed the trial and I delayed the action."
Isolation is a shame
Güven added: "While I went on hunger strike, friends in prison told me I would not make it, that I was old. But I am fasting for 80 days and I'm still very well. This shows that this action has nothing to do with age or physical fitness. It has to do with will and belief. This shows that the spirit of July 14 reappeared in the Amed jail."
Leyla Güven confirmed that she has been receiving constant news from Strasbourg, Hewler and Wales, and this gave her strength and morale. "This resistance - she said - is the resistance and demand of the Kurdish people. It's the wish of millions. I'm happy to be a part of this resistance. I've never been so happy and peaceful in my life. The leader of a people cannot be isolated, cannot be subjugated in prison. This is an act of humiliation and shame. This resistance will continue until isolation is ended."
'Hope and determination'
Gülistan Çiya Ike, speaking on behalf of the hunger strikers in Strasbourg, said: "80 days ago you started a new era in the spirit of Sara, Kemal, Hayri, Mazlum and the spirit of 14 July resistance. We joined this resistance 41 days ago with that very same spirit. This resistance is led by you and women. We've always felt you close. Our aim here is to make your voice heard. Our aim is to end isolation and to achieve the freedom of leader Abdullah Öcalan. We are hopeful and determined."
'Your name is Leyla'
Hunger striker Dilek Öcalan said: "I know your belief, I know your determination very well. As a Kurdish woman, you have led this resistance. Because your name is Leyla."