Actions in 8 Swedish cities to boycot holidaying in Turkey
Turkish tourism was boycotted in 8 cities of Sweden to protest the occupation of Rojava.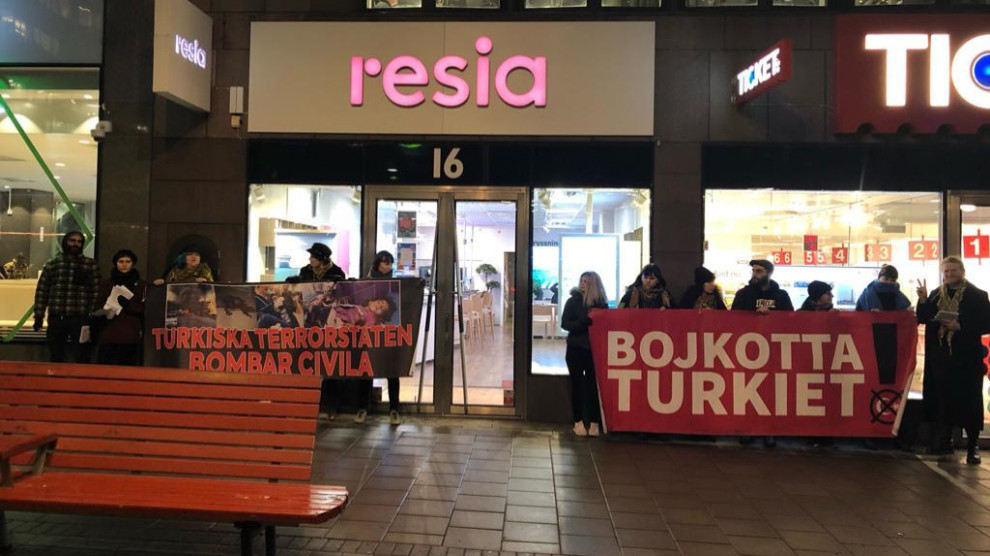 Simultaneous actions were held in the Swedish cities of Stockholm, Gothenburg, Malmö, Uppsala, Helsingborg, Trollhättan Borås and Örebro to protest the Turkish state invasion attacks and war crimes against Rojava and Southern Kurdistan.
Rojava Committees called on activists to organise actions in front of the offices of a company called Resia which sell tickets to Turkey.
Wilma Andersson, one of the activists who took part in the action held in Stockholm, told ANF that they have carried out the protest to condemn the massacres of civilians carried out by the Turkish state in Rojava and added that the occupation is breaking international laws and conventions.
Andersson added: "We have witnessed that the Turkish state, together with its mercenary allies, has repeatedly committed crimes such as massacre, rape and plunder in Rojava. The Turkish state is carrying out genocide against Kurds and other minority peoples in Rojava. This should not be allowed."
Stating that every contribution to Turkish tourism means support for the massacres in Rojava, Andersson said that the Swedish people have a duty to boycott Turkish tourism.
After the action, the Rojava Committees confirmed that Resia had called on police from its social media accounts, to neutralize the action.
It is the first time that Resia acts in this way. "This shows - said the activists - that this company has lost revenue."