Activists in Moscow say stop Turkish aggression on Kurds
Kurds gathered in Moscow to protest the attacks of the Turkish state.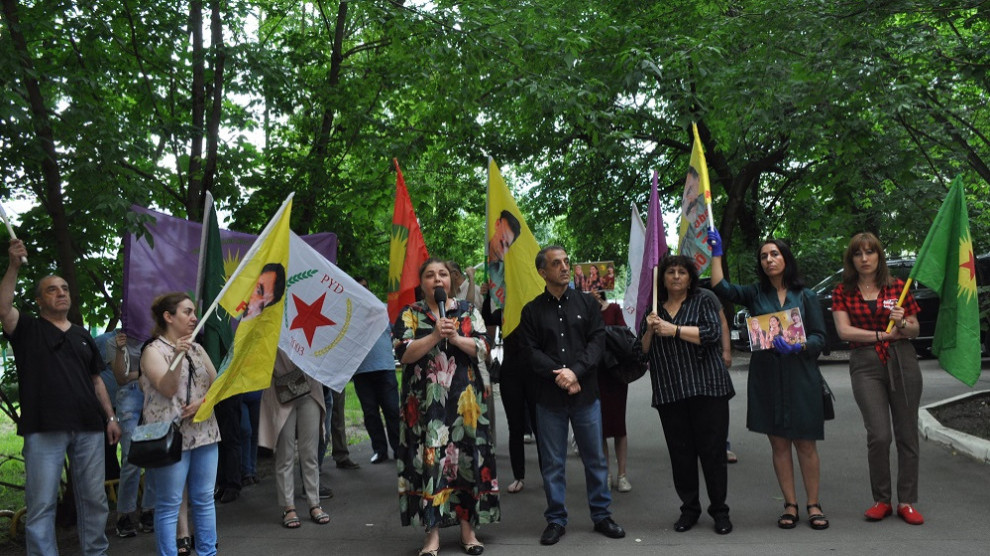 Kurds and representatives of the Kurdish institutions gathered in front of Mala Kurda in Moscow, pointed out that the Turkish attacks continued against all Kurds no matter where they live, and especially in all four parts of Kurdistan.
Speaking in the action, TJKN co-chair Culiyeta Aram said that the Kurdish people are going through a heavy process and that an intense war is continuing in all four parts of Kurdistan. Aram added that Turkey is targeting women, children and all the values of the Kurdish people.
Aram added that the Turkish fascist state has become even more brutal as it is defeated and continues its attacks against Shengal, Kobanê, Maxmur refugee camp and Medya Defense Areas.
Commemorating Zeynep Kınacı (Zilan), who carried out an action against the Turkish army in Dersim on 30 June 1996, Aram also stated that the Kurdish people, especially the Kurdish women, should respond to these new attacks.
The President of the International Association of Kurdish Social Institutions (UKTKB) Arif Azmanî said that the fascist Turkish state is not attacking because it is stronger, but in fact because it is weak.