Activists interrupt Rheinmetall meeting in Berlin
Rheinmetall produces the tanks, which have been used in the war against Afrin.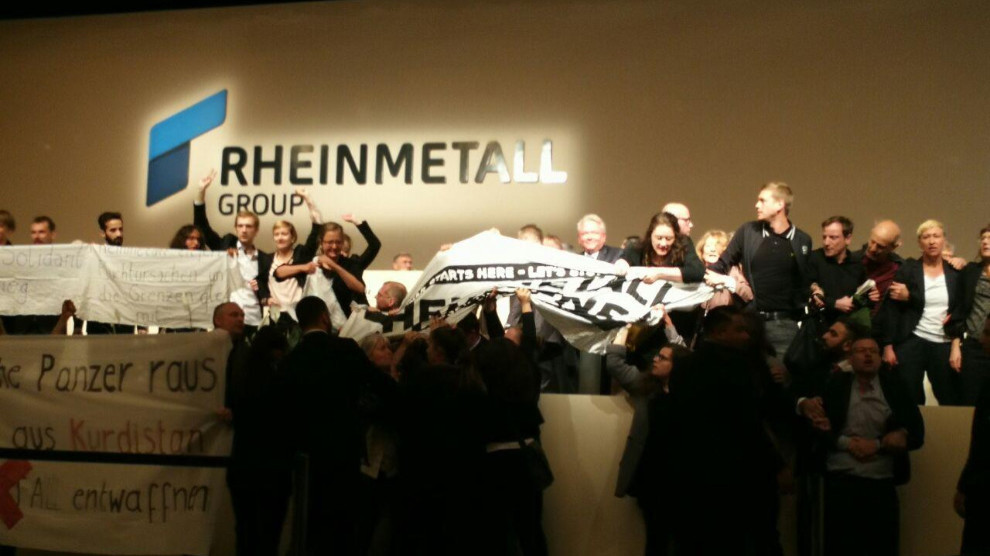 German armaments group Rheinmetall, the largest weapons manufacturer in Germany who modernized the Turkish state's tanks and produces arms for several countries from Kurdistan to Yemen, from Mexico to African countries, is holding its annual shareholders meeting in Berlin.
Responding to the call of Interventionistische Linke (Interventionist Left), over 50 activists have staged civil disobedience action at the central meeting which brings together the stakeholders of the arms industry. The activists chanted: "German tanks out of Kurdistan! Rheinmetall earns through Turkish attacks on Rojava. Stop weapon exports to Turkey!" The activists were forcibly taken out by the security staff and police forces and some of them were subject to violence.
Outside Hotel Maritim where the meeting is taking place, a large crowd of people protested against Rheinmetall. The demonstrators were attacked by the police and detained.
The protests caused one-hour delay in the critical meeting of the Rheinmetall authorities with their shareholders.
Rheinmetall, the focus of Germany's anti-armament movement, has been manufacturing tanks in a joint venture with the Erdogan regime, with approval from the Federal German Government. Erdogan himself received executives from Rheinmetall in his palace, and the Turkish army's tanks had been modernized by Rheinmetall before the invasion of Afrin. The company's Leopard 2 tanks had been used in many crimes, trampling international law.
RELATED NEWS: