Alevi organizations visit Leyla Guven
Alevi associations visited Leyla Guven, who is on day 167 of her hunger strike.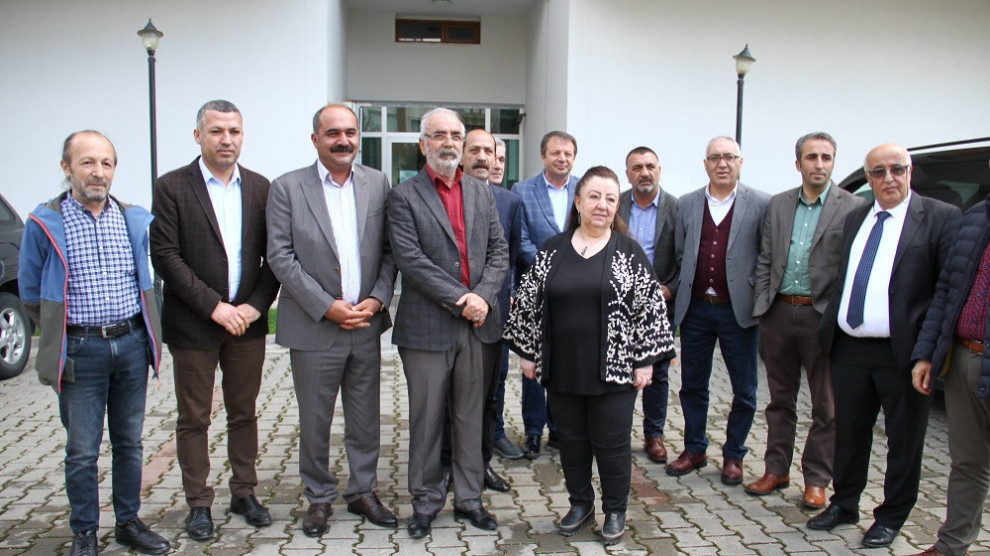 Pir Sultan Abdal Cultural Association (PSAKD) Chairperson Gani Kaplan. Alevi Bektasi Federation Chairperson Muslum Metin, Alevi Cultural Associations Chairperson Dogan Demir, Alevi Associations Federation Chairperson Celal Firat, Democratic Alevi Association (DAD) Co-chair Musa Kulu, Alevi Bektasi Federation Organization Secretary Zeynel Odabas and Peoples' Democratic Party (HDP) Istanbul MP Zeynel Dogan who were in Amed to hold meetings visited the Pir Sultan Abdal Cem and Culture Hall.
KAPLAN: THE UNLAWFUL ISOLATION MUST END
The delegation later visited Democratic Society Congress (DTK) Co-chair Leyla Guven, who has been on a hunger strike protesting the Imrali isolation for 167 days. DTK Co-chair Berdan Ozturk and HDP Amed MP Musa Farisogullari accompanied the delegation.
The delegation issued a statement after the visit.
PSAKD Chairperson Gani Kaplan said Guven's morale is high. Kaplan added that the Alevi Cultural Associations appealed to the Justice for a visit and continued: "Prisoners' right to live and safety is guaranteed by the state. Regardless of political affiliation, all prisoners should have access to visits with their families and lawyers. That is the law. This situation is unlawful, and political prisoners are isolated."
KULU: THE LAW IS ON HOLD
DAD Co-chair Musa Kulu said the law in the country is on hold and added: "It is unacceptable to not implement the laws. The focus is on persons having the right to life. The country's constitution states visits with lawyers and family are a right, banning this right and turning the situation into isolation is unacceptable for humanity and for our faith. The law is at the hands of one single man in the country."
DEMIR: PEOPLE SHOULDN'T BE LEFT TO DIE
"Life is sacred," said Alevi Associations Chairperson Dogan Demir and added: "We are on the side of humanity, rather than any one political party. Alevis have a serious standing. We will work on what we can do together in Turkey using this standing. We think this process should be ended as soon as possible. We do not want people to die. Necessary precautions must be taken and people shouldn't be left to die."
DOGAN: ISOLATION IS A CRIME AGAINST HUMANITY
HDP MP Zeynel Dogan said Leyla Guven gives them morale and added: "Alevism is a faith that considers the human sacred. Isolation is a crime against humanity. Isolation is not just an injustice imposed upon Mr. Ocalan in Imrali, it is the continuation of the pressure exerted upon all of the people. Those with a conscience, who support humane values today, must lend their voices to this cry. Life is sacred. Our Kaaba is the human."
Dogan stressed that the hunger strikes don't have any political demands and added: "There are the laws that the state enacted itself. These people demand that the state comply with its own laws. There can be no laws to apply to one person. All efforts are to get the tyrannical state to comply with its own laws. There can be no more democratic or humane demand."
The delegation later visited the Amed Municipality.