Artists from TEV-ÇAND take over Freedom for Öcalan Vigil
This week, artists from TEV-ÇAND have taken over the Freedom for Kurdish people's leader Abdullah Öcalan Vigil.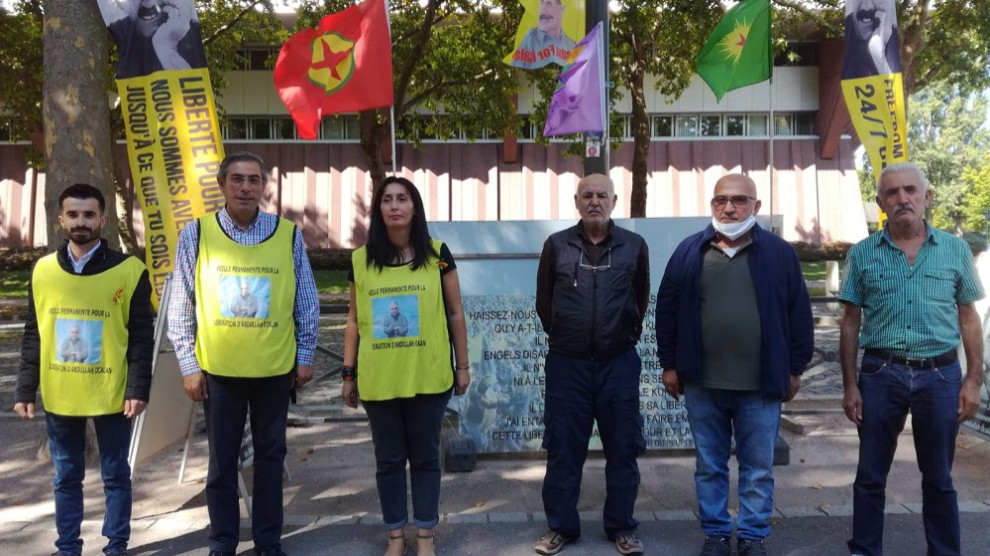 The Freedom for Abdullah Öcalan Vigil in front of the Council of Europe in Strasbourg has reached week 430. Members of TEV-ÇAND organization, Seyidxan, Narixan Hezax, Reber Serhat and Zarife Zerin took over this week's vigil.
Speaking on behalf of the artists, group spokesperson Hozan Seyidxan said that the Kurdish people are going through a very important process and drew attention to the fact that the 21 years of captivity experienced by Kurdish people's leader Abdullah Öcalan have been continuing with aggravated isolation in recent years. Hozan Seyidxan emphasized that the fascist isolation policies were carried out not only in prisons, but everywhere in Kurdistan.
Saying that Europe and the international community remained silent against all these policies, Hozan Seyidxan added that the Kurdish people have been carrying out the Vigil for the past 9 years.
Hozan Seyidxan, who called for participation in the press release to be held in Strasbourg today against isolation, said nobody should remain silent about fascist policies. The musician and singer drew attention to the importance of the Kurdish people and their friends coming together and showing their attitude against the AKP's massacres.
The Freedom for Kurdish people's leader Abdullah Öcalan Vigil has been carried out since 25 June 2012.