"As Turkey's local elections loom, reckless war-mongering begins"
HDP Co-Chairs Pervin Buldan and Sezai Temelli urged the national and international public to show alertness towards Erdoğan's threats and not to remain silent.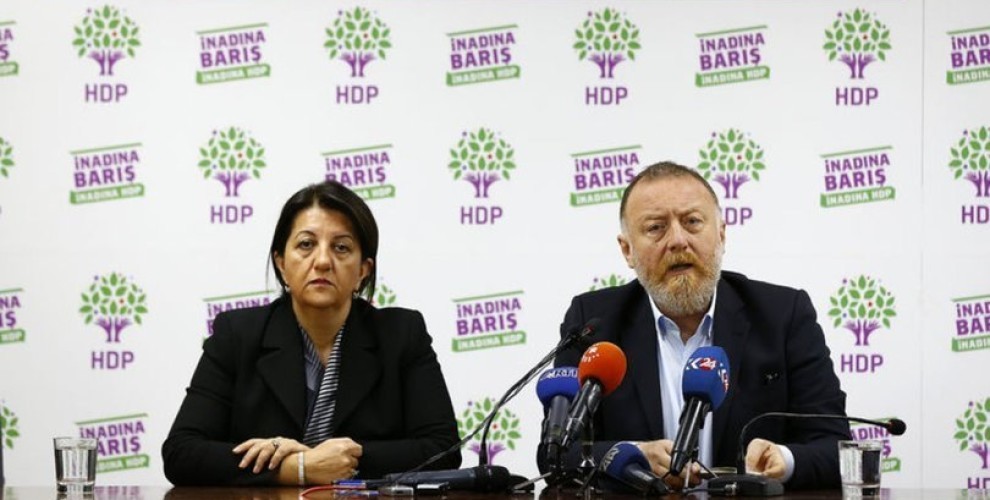 Peoples' Democratic Party (HDP) Co-Chairs Pervin Buldan and Sezai Temelli released a statement pointing to "Turkish President Erdoğan's pro-war and Middle East policies that he has used to consolidate nationalist voters as local elections on March 31 draw nearer".
Speaking at the Turkish Defense Industry Summit, Erdoğan has announced that an operation would begin within days towards the East of Euphrates in North Syria. The day before, immediately after this speech, he continued his election campaign by ordering the bombing of the surroundings of Sinjar and Makhmur.
The statement by HDP Co-chairs said that;
"While in Afrin, one of the regions Erdoğan claims he has "made secure", local people are still trying to cope with the heavy consequences of the occupation, and the current aggressive discourse is merely a sign of new destruction and suffering. Let's not forget, nearly 200 thousand people have had to leave their homes, and hundreds of people lost their lives in Afrin. Historical sites that are under the protection of UNESCO, agricultural areas, especially olive groves, the holy sites which are sacred for various religious identities and the dams supplying water to the region have been destroyed. In Afrin, gangs have made life a nightmare for the local people.
While the people of the region continue to suffer from this destruction, Erdoğan's latest statement, which can only be perceived as the announcement of a new assault, is unacceptable from humanitarian, legal and political perspectives."
Buldan and Temelli pointed out that Erdoğan is not targeting ISIS or its gangs, but the Kurdish and Arab peoples and their allies who have been fighting against the barbarity of ISIS for years.
The statement continued;
"This destructive and aggressive attitude, repeated before each election, will only lead to new conflicts and crises. At the precise moment when a political and democratic solution to Syria's war has been achieved to a certain degree, international and democratic forces should not fall into AKP government's trap. The warmongering that Erdoğan aims to use for his local election campaign will lead to grave and irreparable consequences, and deeply hurt the intended target of regional peace.
President Erdoğan and his government should abandon this irrational stance which will lead to destruction and suffering in the region. We urge the national and international public to show alertness towards such threats and not to remain silent."