Banners and posters with the photo of Abdullah Öcalan hung all over London
Banners and posters with the photo of Kurdish people's leader Abdullah Öcalan were hung all over London to mark the 23rd anniversary of the international 15 February conspiracy.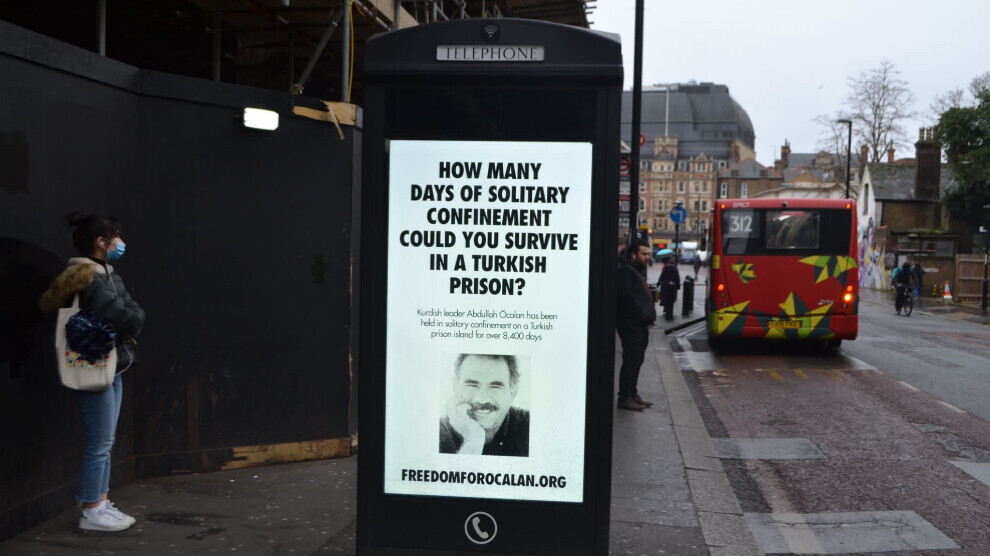 As part of the 15 February protests of the Kurdish People's Assembly, a total of 60 billboards and more than 200 posters on bus stops were displayed by a UK distribution company.
The 'Abdullah Öcalan' posters were placed on billboards and bus stops especially in Tower Hamlet, Greenwich, Barking, Ealing, Barnet, Croydon, Enfield, Edmonton, Dalston, Hackney, Newham and Levisham.
The isolation of Abdullah Öcalan was highlighted in the posters that will be hung on billboards and stops throughout February. "How many days of solitary confinement could you survive in a Turkish prison?" The banners asked and below it said: "Kurdish Leader Abdullah Öcalan has been held in solitary confinement on a Turkish prison island for over 8,400 days."

London 'meets' Abdullah Öcalan
Ercan Akbal from the Kurdish People's Assembly spoke about the poster activity, and added that the work they carry out for the freedom of Kurdish people's leader Abdullah Öcalan within the framework of the "Time for Freedom" initiative is growing.
Akbal said that together with Britain's biggest unions, they brought the 'Freedom for Abdullah Öcalan' campaign to wider audiences and added: "Today, the Durham Miners' Festival and in 2019 Tolpuddle Martyrs' Festival, one of the biggest workers' festivals in Britain, was dedicated to Kurdish people's leader Abdullah Öcalan. At the congresses of big trade unions, parliamentarians, writers and progressive left intellectuals demand freedom for Abdullah Öcalan.
Here we are carrying Leader Apo to all over London as part of the campaign that developed in England and on the occasion of the anniversary of the February 15 International Conspiracy."
'Freedom for Öcalan' on Britain's agenda
Reminding that they had placed advertisements in 86 local and national newspapers in Britain last year, Akbal added: "For two weeks, hundreds of billboards will be displayed calling for freedom for Öcalan. We call for solidarity and sensitivity about the situation of the Kurdish people's leader."
The "Freedom for Abdullah Öcalan" campaign carried out by the British trade unions is considered as a concrete expression of the great interest that Öcalan has in Britain.
The freedom campaign Abdullah Öcalan was launched by the Unite the Union, the largest union in England and Wales, with 1.5 million members, and the General Workers' Union (GMB) with 800,000 members.
The campaign is run by the unions UNITE, GMB, FBU, ASLEF, TSSA, RMT, USDAW, PROSPECT, GFTU, PCS, EIS, TUC, THOMPSONS SOLICITORS, CWU and NEU, which have millions of members. Hundreds of politicians, academics, writers and artists participated in the campaign.