Briefing at Council of Europe: Open the gates of Imrali
Speaking at the session held in the Council of Europe demanding the end of the isolation in Imrali, former Icelandic Minister Jonasson said that a re-negotiation with Abdullah Öcalan is needed to ensure a lasting peace in Turkey.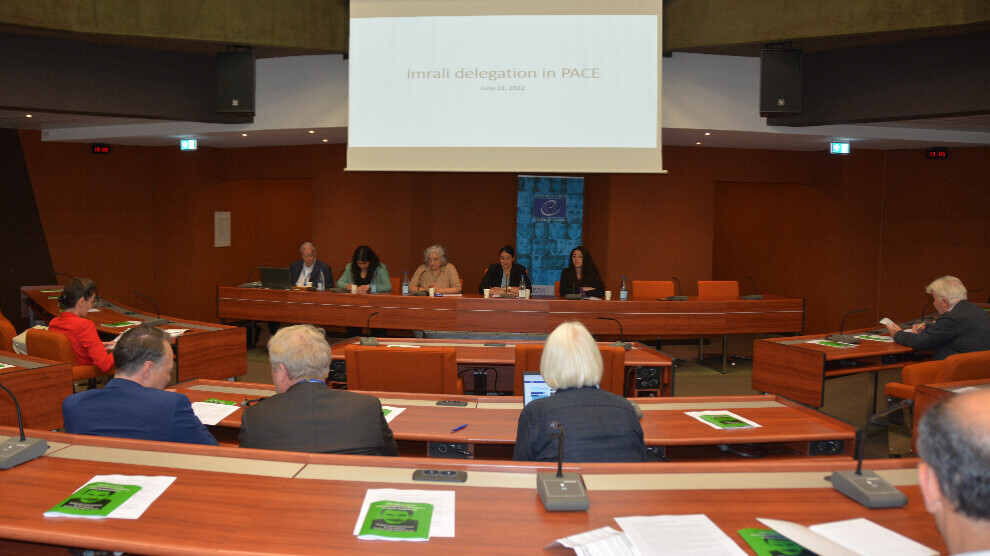 At a session held at the Council of Europe, Icelandic Minister of Interior and Justice Ögmundur Jonasson, former HDP Urfa MP Dilek Öcalan and one of the lawyers of Abdullah Öcalan, Raziye Öztürk spoke about the heavy isolation imposed on Kurdish people's leader Abdullah Öcalan.
Isolation violates UE law
Jonasson said: "There is a situation in Imrali that is against human rights and EU laws. The system in Imrali should not be accepted."
Pointing out that Abdullah Öcalan's freedom and peace in Kurdistan are not independent of each other, Jonasson added: "When the Imrali gates were open, the peace process and talks were going on in a positive atmosphere. Abdullah Öcalan's message at the 2013 Newroz was also very promising. Then the doors were closed."
Jonasson said that the Turkish state committed war crimes by turning to Kurdish cities after the negotiations were ended in Imrali, and continued: "You can see the war crimes committed in Kurdistan since 2014 by looking at the Kurds who were murdered in Sur, Nusaybin, Cizre and in Roboski in 2011. These are proof that war crimes have been carried out in Kurdistan. We say, help us to open those doors so that a lasting peace can be achieved in Turkey."
Imrali torture system
Abdullah Öcalan's lawyer Raziye Öztürk emphasized that Turkey is one of the member states of the Council of Europe and that it must comply with the international conventions it has signed in this context, and added: "Despite this, the torture system in Imrali Prison has existed for 23 years. This is something that has been documented by the ECtHR decision and the CPT reports."
Rights of prisoners violated
Emphasizing that Abdullah Öcalan and the other prisoners held in Imralı are deprived of their legal rights, Öztürk shared the following information regarding the violations of rights in the prison island: "From 2011 to 2019, lawyers visits were allowed in just 5 occasions. In the last 8 years, the prisoners were able to benefit of the right to family visit only 5 times. They were able to use their right to a phone call only 2 times in 23 years. Hamili Yıldırım, Ömer Hayri Konar and Veysi Aktaş, who were transferred to Imralı in 2015 and kept in isolation cells, were deprived of their right to a lawyer. These prisoners were only able to use their right to family visit 3 times."
We can't get news
Reminding that they could not get any news from their client Abdullah Öcalan after the 3-4-minute phone call he made with his brother on 25 March 2021 under extraordinary conditions, Öztürk said: "Abdullah Öcalan's connection with the outside world has been systematically cut off for 14 months. We have no information about his and the other prisoner's health, conditions and legal status. The disciplinary punishment processes that our clients are subjected to in Imralı are kept confidential from us, and we are prevented from taking legal action in this regard.
Silence of the Council of Europe criticized
Emphasizing that the silence of the Council of Europe played a role in Turkey's perpetuation of these violations, Öztürk said: "We applied to the European Court of Human Rights in 2011 regarding the isolation in Imrali, but 8 years later, it asked Turkey for a defense. However, a decision on the application has not been made yet."
Noting that the Council of Europe did not perform its duty of supervision, Öztürk said: "Since no decision was taken by the Council of Europe, this practice turned into a system of torture."
Finally, referring to the CPT's visit in 2019, lawyer Öztürk said: "the CPT published the report of this visit in 2020. The report stated that the aggravated execution regime should be changed. It recommended that family and lawyer visits be made periodically. However, after this report, a more difficult process took place in Imralı. We call on the Council of Europe and all parliamentarians to fulfil the ECtHR decisions and CPT reports on Turkey."
Abdullah Öcalan should be released
Former HDP Urfa MP Dilek Öcalan said: "We now demand the release of Abdullah Öcalan. The Kurdish people and their Leader are not 'terrorists', but the real terrorists are those who tortured these people, put them in prison and killed them." She added that the European states remained silent against Turkey and were partners in this crime.
Dossier given to deputies
After the session, a dossier prepared by the Freedom for Abdullah Öcalan Initiative on the isolation in Imrali was delivered to the parliamentarians of the Council of Europe.