Buldan: We won't give up the struggle for democracy and justice
"People are on hunger strike demanding the end of isolation, demanding justice and law to be respected. You cannot play three monkeys, we won't accept this and we condemn this."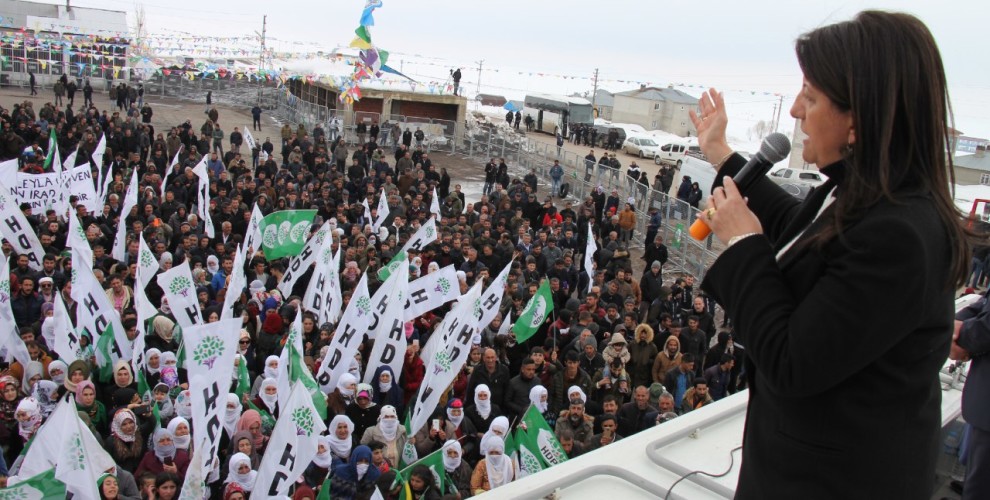 Peoples' Democratic People's Party (HDP) co-chair Pervin Buldan rallied in Karayazı after the public meeting in Karaçoban, Erzurum.
Karayazı Municipality co-mayoral candidates Melike Göksu and Burhanettin Şahin greeted the people.
Buldan then saluted the people and commended women who came to the rally in high numbers. Buldan reminded that the most difficult work in the elections is that carried out by the HDP, and continued: "If in spite of such heavy pressures and obstacles we are here today thousands of people together, it means that no matter how big the obstacles, we will continue to be here. No one should expect us to give up on democracy, peace, law and struggle because we are the descendants of Sheikh Said."  
Buldan added that "wherever we are going to campaign we are met with the same enthusiasm and determination. Everyone is waiting for 31 March. The HDP is facing the biggest pressure and obstacle. We are arrested and banned, yet we see and witness that our people are with us despite everything."
The HDP co-chair insisted: "March election will be one of Turkey's most important elections. The AKP and Recep Tayyip Erdogan are unable to promise anything to the people. It looks like the only mayor to be elected is Erdogan, because he is going everywhere. Their only subject in the electoral campaign is actually us, the HDP and whether the HDP is the extension of Qandil and is a terrorist party. Everywhere Erdogan goes, he says the same. The only party talking about democracy and the law is the HDP. The one party trying to divide this country is in fact the AKP, the AKP mentality. We are not making any discrimination, we love everyone, whether they vote for us or not."
No law, no justice, but isolation
Pervin Buldan said: "If there is no justice and law in a country, if anyone who opens his mouth is sent to prison, if politics is prevented, then we want to ask the AKP, what do you do? You have crushed law, democracy, freedom and justice. If this country's elected people are in prison, it means there is no justice in this country.
People are on hunger strike demanding the end of isolation, demanding justice and law to be respected. You cannot play three monkeys, we won't accept this and we condemn this."