Call for participation in Europe-wide demos against isolation
The KCDK-E, TJK-E and the Revolutionary Youth Movement have called upon everyone to join the demonstrations to protest the isolation of the Kurdish People's Leader, Abdullah Ocalan.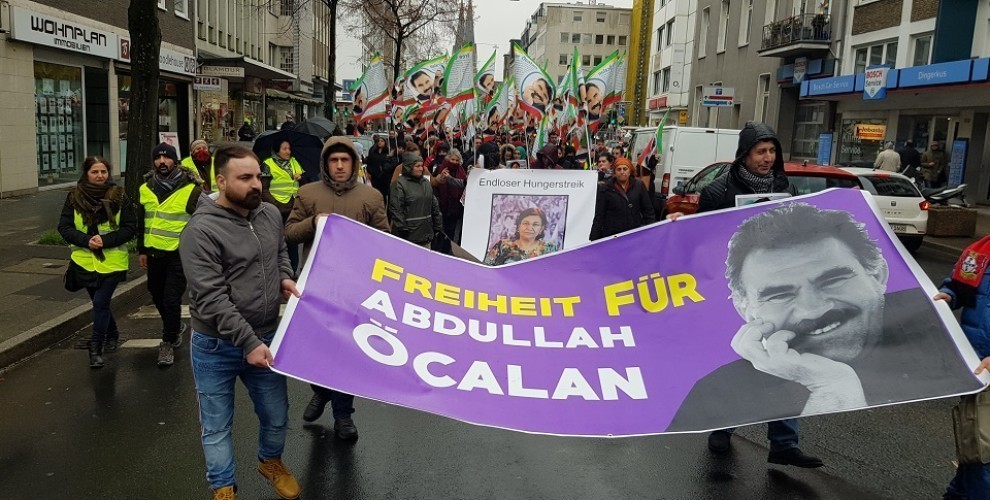 In a statement, the KCDK-E (Kurdish Democratic Society of Europe), TJK-E (Kurdish Women's Movement in Europe) and Tevgera Ciwanen Şoresger (Revolutionary Youth Movement) have urged for public mobilization and participation in January 24, 25, 26 demonstrations in Europe, and have called to speak up for Leyla Guven and activists on hunger strike.
The statement is as follows:
"The resistance of the hunger strike campaign which was initiated by Leyla Guven in order protest the isolation of leader Apo, is expanding every day; the spirit of this resistance has prompted many to take action. Yet the health condition of all hunger strikers is extremely critical, particularly of Leyla Guven and Nasir Yagiz Erbil, as well as the political prisoners in Turkey, North Kurdistan, and activists in Europe.
The Kurdish people being in the first place, anyone who honors humanity and values life, shall take on the streets around the world, to speak up for Leyla Guven and other hunger strikers.
The indefinite and non-alternating hunger strikers in Strasburg, Hewler, Canada, Wales, the Netherlands and Duisburg will participate in the demonstrations via telephone to share their messages.
We as the KCDK-E, TJK-E and the Revolutionary Youth Movement call on all Kurds, people from Turkey, the revolutionaries, democrats, intellectuals, women, youth, Alevis, Yazidis, Muslims and everyone who values human rights, to join the demonstrations with a democratic spirit – to shout the demands of Leyla Guven and other hunger strikers on the streets. In order to prevent an unwanted situation, we shall urge the international organizations to take immediate actions."
Time and locations of the upcoming demonstrations:
JANUARY 24, 2019
Belgium / Brussels
Location: Place Luxembourg / Time: 14:00
Switzerland / Basel
Location: In front of Train Station / Time: 18:00
Switzerland / Zurich
Location: In front of Glabus / Time: 18:30
Switzerland / Solothurn
Location: In front of Central Train Station / Time: 18:00
Switzerland / Lausanne
Location: In front of Gare de Lozanne / Time: 19:00
Switzerland / Rapperswil
Location: In front of Train Station / Time: 18:00
Switzerland / Lucerne
Location: In front of Train Station / Time: 16:00
Germany / Giessen
Location: Berlinerplatz / Time: 18:00
Germany / Saarbrücken
Location: Europe-GALERIE / Time: 18:00
JANUARY 25, 2019
Belgium / Brussels
Location: Place Schuman / Time: 14:00
Greece / Athena
Location: Academy Square / Time: 18:00
Germany / Munich
Location: In front of Arnulfstrasse Mercedes building / Time: 18:30
France / TJK-E Paris Action
Location: Place de Châtelet (Châtelet les Halles sortie place de Lescot) / Time: 14:00
JANUARY 26, 2019
Germany / Mannheim
Location: Paradeplatz Mannheim / Time: 14:00
Germany / Frankfurt
Location: Frankfurt Central Train Station / Time: 14:00                                          
Germany / Hannover
Location: In front of Central Train Station / Time 14:00
Germany / Kiel
Location: In front of Kiel Train Station / Time: 16:00
Germany / Freiburg
Location: Alte Synagogen Square / Time: 16:00                                
Germany / Stuttgart
Location:  Lautenschlager Street / Time: 14:00  
Germany / Nuremberg
Location: Lorenz Church / Time: 16:00 
Germany / Düsseldorf
Location: In front of Central Train Station / DGB Haus / Time: 13:30
Germany / Berlin
Location: Bernauer Street / Time: 15:00
Germany / Karlsruhe
Location: Stephans Square / Time: 15:00
Germany / Bremen
Location: In front of Bremen Central Train Station / Time: 13:00
Germany / Darmstadt
Location: Luizenplatz / Time: 14:00
Germany / Oldenburg, Aurich
(Children Gathering)
Location: Marktplatz Center / Time: 14:30
Austria / Vienna
Location: Museumsqaurter Vienna / Time: 16:30
Austria / Graz
Location: Griesplatz / Time: 15:00
Austria / Bregenz
Location: By the lake / Time: 15:00
Denmark / Copenhagen
Location: Vesterbros Torv - DR Emil Holms Kanal 20, København C / Time: 13:00
Netherlands / Amsterdam 
Location: Waterlooplein 1011 PG Amsterdam / Time: 13:00
Switzerland / Basel
Location: Claramarkt / Time: 16:00
Switzerland / Bern
Location: In front of the Parliament / Time: 14:00
Switzerland / St. Gallen
Location: In front of Train Station / Time: 16:00
Switzerland / Lucerne / Lugano
Location: In front of Train Station / Time: 16:00
Switzerland / Aarau
Location: In front of Train Station / Time: 17:00
Belgium / Brussels
Location: Place de La Monnaie / Time: 14:00
Sweden / Stockholm
Location: Norabantoget / Time: 13:30
Sweden / Gothenburg
Location: Götapatsen / Time: 13:30