Campaign launched in Paris demands freedom for HDP deputies
Prior to the hearing in the trial of HDP former co-chairs and prisoner Figen Yüksekdağ on 24 December, AvEG-KON launched a campaign in Paris with the slogan 'Freedom for Figen Yüksekdağ and the HDP deputies in prison'.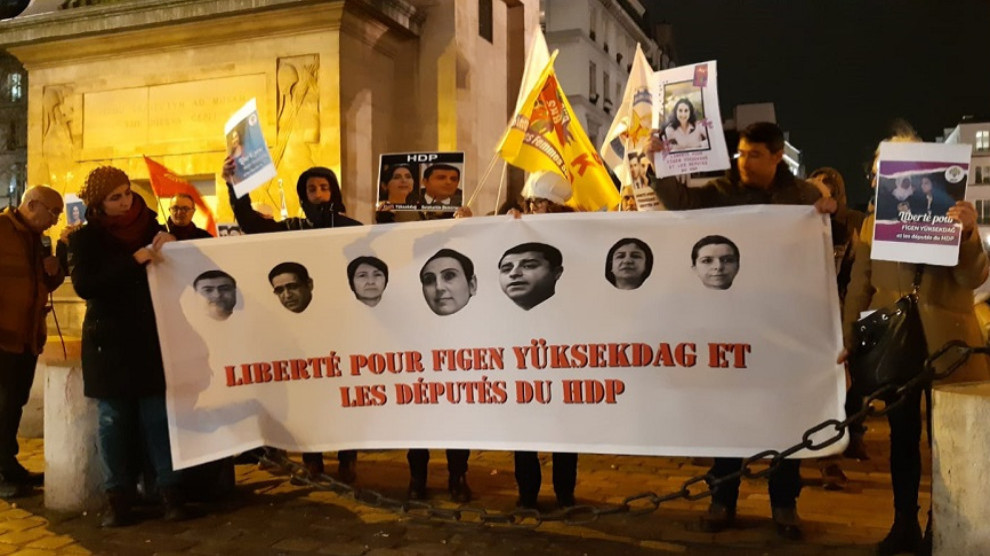 Former HDP co-chair Figen Yüksekdağ is scheduled to appear in court for a new hearing on 24 December. The European Confederation of Migrant Workers (AvEG-Kon) has launched a campaign called "Freedom for Figen Yüksekdağ and freedom for the HDP deputies in prison' in Paris.
The campaign is carried out within the framework of the 'Figen Yüksekdağ freedom initiative' organised by ACTIT (Turkish Migrant Workers Cultural Association). The organisers held a press conference in Paris.
Yüksekdağ and HDP deputies, who were elected with millions of votes, have been held hostage by the Turkish state, recalled the statement.
Information about the cases brought about Yüksekdağ was given in the statement: A total of 17 years in prison have been handed out to the former HDP co-chair who is on trial for 9 separate cases.
The 4 November 2016 case file, which is referred to as the main case against Yüksekdağ and continues at Ankara 16th High Criminal Court, consists of an indictment of 165 pages excluding the annexes and 30 folders with the evidence and other documents in it.
The statement added: "Documents put into the file as evidence are quotes from public speeches made by the former HDP co-chair. Yüksekdağ declared that she stands by her words at every hearing. She will appear in court again on 24 December 2019 and she will expose fascism and illegality she is subjected to."