Challenging Capitalist Modernity IV Conference in Hamburg
The "Network for an Alternative Quest" invites people to the conference "Challenging Capitalist Modernity IV: We want our world back — Resist, Reclaim and Rebuild" in Hamburg.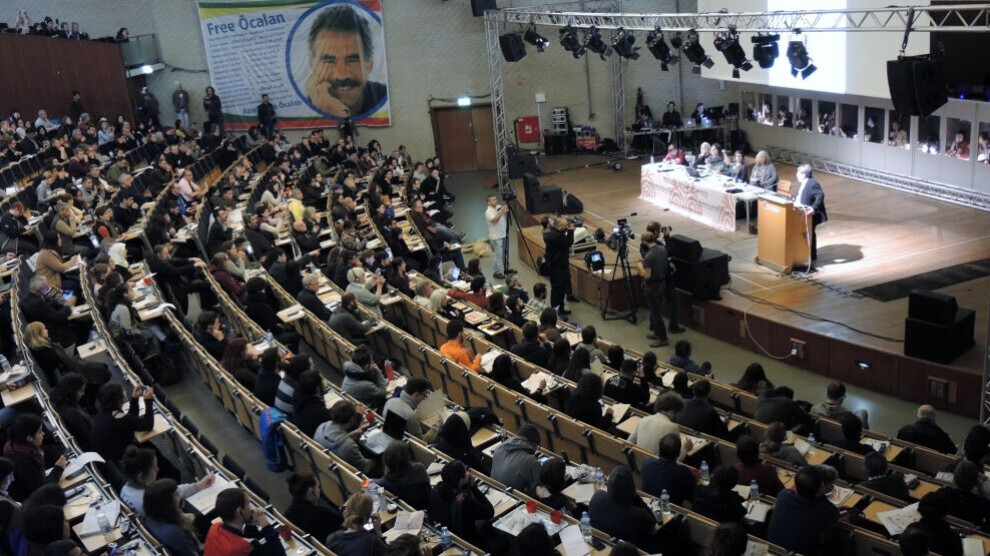 The "Network for an Alternative Quest" will hold its fourth "Challenging Capitalist Modernity" conference over the Easter weekend in Hamburg. The motto is "We want our world back! Resist, Reclaim and Rebuild!", the main themes of the conference are "Autonomous Education and Organizing".
"Our world has never seen such a pace of destruction"
The organizers said presenting the conference that "our world has never before seen such a rate of destruction. In the last hundred years, not only are different languages and cultures dying off, but every day numerous plants and animals become extinct.
Capitalist modernity and its source, patriarchy, have brought us not only to the brink of the destruction of human society as we know it but also of our world. However, it is not all hopeless, if we take a collective stance, we may come out of the chaos with a better civilization — democratic civilization — but only if we do something about it now. We do not need to search for another world elsewhere; we want our world back!"
Network for an Alternative Quest adds that at this fourth conference "we will continue to focus on the critique of capitalist modernity, but our discussions have shown us that it is more important than ever to discuss alternatives, organize and educate ourselves. Thus, the main theme of this year's conference will focus on rebuilding: Arts, Education, and building Democratic Confederalism."
The organizers add: "We would like to give substantial time to possible solutions and alternatives. This year we will continue with the traditions of "Call for Papers" and "Call for Workshops". There will be a call for both on the website. There will also be a call for interpreters, as the conference will once again be multilingual. Please check the website for updated information."
The past three conferences
The past three conferences not only brought together leading intellectuals but also gave young activists, students, and scholars a chance to present their ideas. In this fourth conference, the organizers said they want to "once again build bridges between different communities and movements in Kurdistan and worldwide."
The previous three conferences were: "Challenging Capitalist Modernity I: Alternative Concepts and the Kurdish Case," in 2012; "Challenging Capitalist Modernity II: Dissecting Capitalist Modernity — Building Democratic Confederalism," in 2015; or "Challenging Capitalist Modernity III: Uncovering Democratic Modernity — Resistance, Rebellion and Building the New," in 2017.
For three days, hundreds of students, intellectuals, activists, and movements came together and discussed not only the things they were critical of or the existing obstacles, but also how these obstacles can be overcome and what alternatives these criticisms give rise to. Many ideas from around the world and from the Kurdish freedom movement, and in particular its key thinker, Abdullah Öcalan, came together to strengthen our collective understanding and practice.
In 2019, there were dialogue and discussion with many people around the world to determine what the fourth conference should discuss. However, due to Covid 19, that conference had to be postponed.
Technical Information
Date: 7–9 April 2023
Place: University of Hamburg, Audimax.
Translation: Simultaneous in Kurdish, English, German, Turkish; possibly Italian, Spanish and/or French.
Food: Lunch is 3 € for registered participants; tea, coffee, and water will also be available.
Livestream: The entire conference will be streamed in several languages.
Cultural activities: There will be cultural activities on Saturday evening.
Accommodation: Sleeping in private homes at no extra cost between April 6–10, 2023
Registration is now open; register early to secure a place. Registration cost 20 € for students/unemployed and 30€ for others requested to defray the expenses of the conference.
Please register at [email protected], and tell us if you need accommodation. This is required for smoother registration on the day and to secure accommodation.