Civil disobedience action for Öcalan in Zurich
Activists held civil disobedience action in Zurich against the isolation imposed upon Abdullah Öcalan.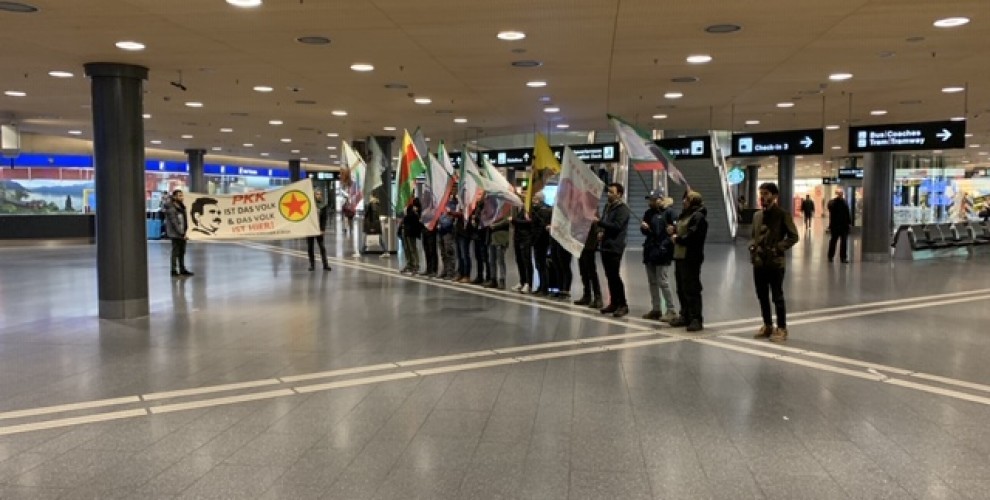 A civil disobedience action was organized in Zurich city of Switzerland to protest against the aggravated isolation regime imposed upon Kurdish People's Leader Abdullah Öcalan in the Imrali prison and to support the hunger strike action initiated by jailed HDP MP Leyla Güven who is on the 62nd day of fast.
Güven's protest has inspired thousands in and outside prisons, all across Kurdistan, Europe and the world to launch the same protest with the motto "Leyla Güven's demand is our demand". Solidarity with the hunger strikes is growing more and more every day.
The disobedience action at the Zurich International Airport was organized by Tevgera Ciwanên Şoreşger (Revolutionary Youth Movement) activists. Posters of Öcalan and flags of the PKK (Kurdistan Workers' Party) were held, and a banner reading "PKK is the people and the people are here" was unfurled.
During the action in the evening hours, the activists chanted slogans in German and French and called for public attention to the isolation of the Kurdish leader and hunger strikes.
The activists said they would continue their actions uninterrupted until the Turkish state puts an end to the isolation regime executed against Öcalan.