Dêrik and Friedrichshain-Kreuzberg are twin municipalities
Rojava's Dêrik co-mayor Rojin Çeto presented the agreement signed with the sister municipality  of Friedrichshain-Kreuzberg in Berlin.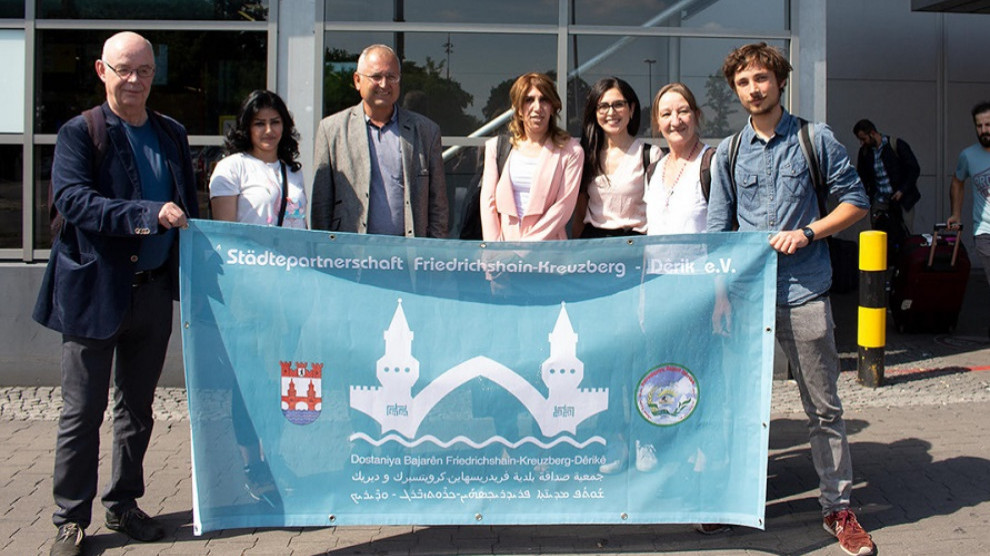 Rojin Çeto said: "We will convey our experiences especially as referred to the autonomous administration model".
The bridge of friendship, which has been stretched for a while, between the districts of Rojava Kurdistan and the Friedrichshain-Kreuzberg districts of Berlin, has been officialized last week.
The process of twinning the two settlements had begun some time ago and was finally formalized last week when the two mayors signed the agreement. 
The Friedrichshain-Kreuzberg Municipality is expected to provide support to Dêrik in the social, health, educational and economic areas. On its part Dêrik municipality will contribute to the integration process of Rojava and Syrian refugees living in Friedrichshain-Kreuzberg district.
The multiculturalism of both settlements is already remarkable. Immigrants from different parts of the world, including a wide Kurdish population, live in Kreuzberg.
Speaking to ANF, co-mayors of Dêrik Rojin Çeto and of Friedrichshain-Kreuzberg Feremez Hemmo said that they attach great importance to this agreement and told about their joint activities.
Stating that they can help each other in many issues the co-mayor of Dêrik Rojin Çeto said: "We will primarily share our experiences, we think that they have a lot to learn from us and we will learn from them. Then we will develop joint projects ".
Feremez Hemmo said: "It is very important for us to be twinned with Dêrik. This success has undoubtedly been achieved through the efforts of the many who lost their life in the past 8 years fighting against the violent jihadist mercenaries."