DIE LINKE Co-chair: Stop arms exports to Turkey
Bernd Riexinger, co-chair of the DIE LINKE party, visited the Kurdish association in Essen and declared that the least the Federal Republic of Germany had to do in view of the Turkish military operations was to stop arms exports.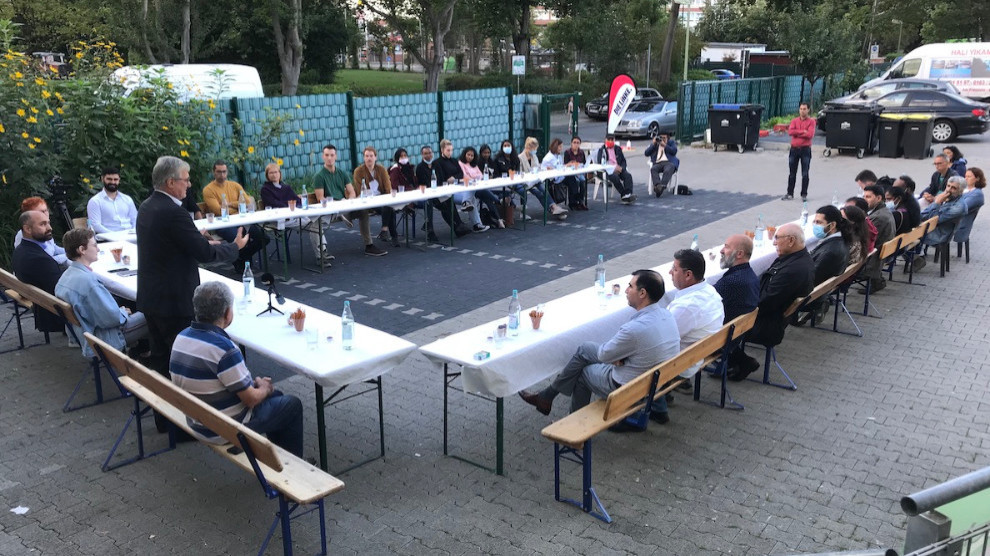 On the occasion of the International Day of Peace, the leader of the Left Party (DIE LINKE), Bernd Riexinger, visited the Kurdish association DKTM in Essen and took part in a meeting of representatives of various organizations.
The event in the run-up to the local elections in North Rhine-Westphalia on September 13 was opened with a welcoming speech by Yilmaz Gültekin, who spoke as a representative of the Kurdish association. Afterwards, Theresa Brücker, who is running for Essen city council for DIE LINKE, and local politician Heike Kretschmer, also from the Left Party, spoke. Afterwards the invited organizations presented their work, including Tamil, Palestinian, Iranian, Somali and Kurdish institutions as well as the Anti-Racism-Telephone and Seebrücke Essen.
Bernd Riexinger said in his speech: "We want a world without wars and without military conflicts. The fact that the EU tolerates the aggressive actions of the Turkish President Erdogan is incomprehensible. We must not allow him to first wage war against the Kurds, then wage war against Syria and then wage war against Greece. Such people urgently need to be given a helping hand and the least Germany can do is not to deliver any more weapons to Turkey. Any military cooperation must be terminated."