Egyptian TV exposes AKP and MIT's plan
Egyptian TEN TV exposed the genocidal policy against the people of Bakure Kurdistan and Rojava planned by the MIT and various intelligence services in Turkey with documents they obtained.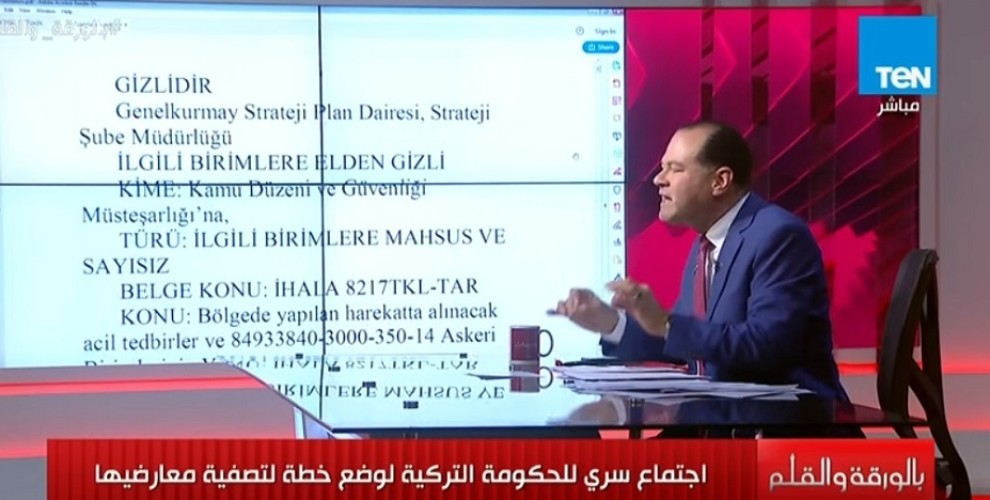 In a program he prepared for Egyptian TEN TV, Doctor Neshat Dihile exposed a plan for a Kurdish genocide by the MIT and various intelligence services. The documents obtained by the journalists show that Erdogan and the AKP government have been leading this genocide plan, which was to be implemented through the MIT and secret forces and to target the opposition to Erdogan, the PKK, the HDP (Peoples' Democratic Party) and the forces in Rojava.
The document on the joint plan by the MIT and the AKP government shows serious efforts to assassinate leading PKK cadres, and also includes plans to retake the usurped municipalities from the DBP in Northern Kurdistan (after the party most likely wins them back in the coming local elections), and to murder PKK cadres and sympathizers as well as HDP members.
Dr. Neshat Dihile shared the following information on the content of the documents: "The MIT documents show allocated budgets for disbanding and politically weakening parties and institutions in Northern Syria."
Dihile said there are also plans to train Turkish soldiers further to fight the HPG and YJA Star guerrillas, and added that another significant point is that military courts will be increased and a basis to put deserters and MIA soldiers on trial will be established.
Dihile added that the document includes the phrase, "In every incident a bullet must be exploded, if there is no opportunity the bullet must be exploded in any case."
Dihile said the following on Turkey's plans for Rojava: "According to the documents, the special war will be against Kurdish parties and Rojava Kurdistan. Turkish media, especially Anadolu Agency and the TRT, have been prepared for this. TRT and the Anadolu Agency will carry out the special war with great delicacy to give strength and morale to soldiers."