Europe: Tens of thousands protest Turkey's attacks of Afrin
Tens of thousands of Kurds organized demonstrations and civil disobedience actions in several European cities to protest Turkey's invasion of Afrin.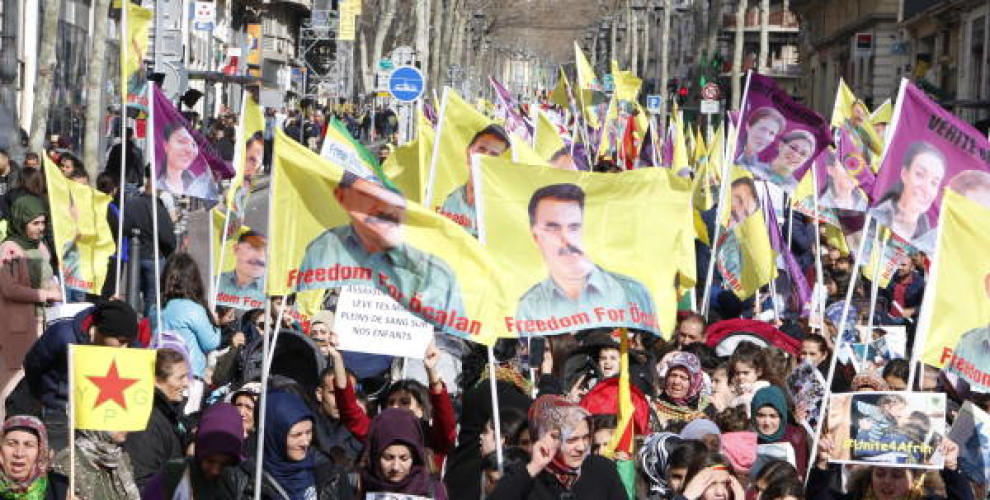 As invading Turkish forces approach close to Afrin city center and warplanes bomb outskirts of the city, Kurds in Europe took to the streets to protest the silence of European Union, United Nations and other international powers.
GERMANY
Home to the largest Kurdish community in Europe, Germany's main squares were filled with angry Kurdish protestors on Sunday.
In German capital city Berlin, Kurds and their friends continue their actions in solidarity with Afrin. Gathering at Oranienplatz, Kurds and their friends staged a march in protest at the Turkish state's attacks on Afrin. Around two thousand people joined the march, including AGİF, SKB, MLKP, MLPD and revolutionaries from Turkey and Germany.
In Hamburg, around five thousand people joined a demonstration in protest at the attacks against Afrin. The mass later held a civil disobedience action at Hamburg HBF (Central Station) where police reportedly detained a few young demonstrators.
In Dusseldorf International Airport, one of the main transports of the country, several hundred Kurds protested Turkish invasion. German police attacked the protestors in Terminal C and injured four of them.
Also at the center of Dusseldorf city demonstrators staged a sit in protest in front of the main station. Women activists blocked trams and busses from operating for more than an hour.
In the northern city of Bremen, hundreds of Kurds gathered in front of the State Parliament and protested the Turkish regime.
In further south, in Stuttgart more than five thousand showed support for Afrin. Several Turkish and German organizations supported the action.
Kurds staged protests in German cities of Nurnberg, Dortmund, Cologne, Saarbrücken, Hannover, Aachen, Munster, Leipzig and Trier as well.
THE NETHERLANDS
Kurds marched from the parliament building to the city's main station. Carrying YPG and YPG flags the protestors chanted slogans against Turkey as they held a sit-in action inside the station building.
FRANCE
In capital city Paris, more than five thousand Kurds and their supporters gathered together at Chatlet Square and condemned Turkish attacks and the silence of international institutions.
In Lyon, several hundred Kurds organized a demonstration at the city centre to protest Turkish invasion.
Thousands of Kurds also took to the streets in the southern cities of Marseilles and Toulouse.
DENMARK
In Copenhagen more than three thousand Kurds and their supporters held a protest action in front of the Danish parliament building.
Kurds marched to the City Hall and chanted slogans in support of the resistance fighters in Afrin.
SWEDEN
Several hundred Kurds held a protest action in the Swedish capital on Sunday. Kurds gathered in front of the Foreign Ministry building and marched to the national parliament.
Swedish police attacked the activists at one point but Kurds continued their protest. After a brief meeting, protestors marched again, this time to the Sergelstorg Square.
Demonstrations in solidarity with Afrin were also held in Goteborg, Malmö, Uppsala, Söderhamn, Helsingborg, and Bollnäs where people condemned the Turkish state's attacks on Afrin together with so-called FSA gangs.
NORWAY
In Oslo, Kurds and solidarity groups gathered in front of the city's main station and staged a protest against Turkey. In the evening hours a group of Kurds demonstrated in front of Norwegian Prime Minister Erna Solberg's house.
Also in Trondheim dozens protested against the Turkish attack on Afrin.
MOSCOW
Representatives Kurdish institutions and several activists organized a press statement in central Moscow on Sunday. Speaking at the event, representative of Rojava cantons Reshad Benav condemned the attacks on Afrin and said that all who remain silent are accomplices of Turkey's crimes.
UNITED KINGDOM
In the UK, Kurds in Nottingham, Manchester, Liverpool and Cambridge took action to protest Turkish invasion.
In Manchester the protestors blocked train traffic at Piccadilly Station.
SWITZERLAND
More than 10 thousand Kurds and friends of Kurdish people marched in Zurich to protest Turkish invasion attacks on Afrin. Carrying YPG, YPJ flags and posters of Kurdish leader Abdullah Ocalan, the crowd chanted "terrorist Turkey", "child murderer Erdogan".
Speaking at the event via telephone, YPG spokesman Nuri Mahmoud said the people of Afrin will resist until the end.
BELGIUM
Kurds in Brussels and Antwerpen also took to the streets and held protest actions against Turkey.