FED-KURD in Berlin calls on activists to protest in front of the US embassy
The Kurdish community in Berlin invited activists to a vigil against the war in Kurdistan in front of the US embassy next Wednesday.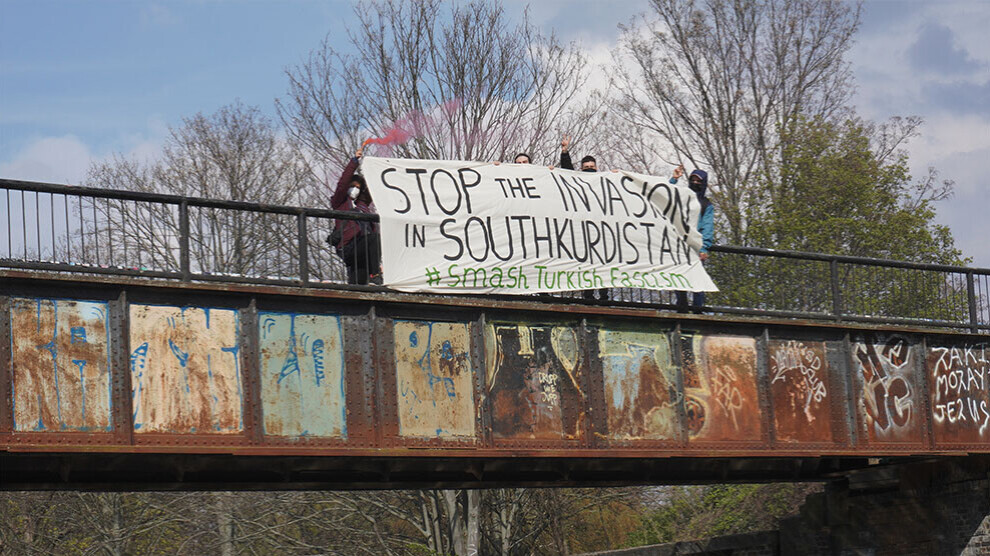 The Turkish invasion of South Kurdistan has been going on for three months now. In protest, the Free Kurdistan Federation of East Germany e.V. (FED-KURD) invited activists to a vigil on Wednesday in front of the US embassy in Berlin.
The association said in its appeal: "This is not a war that the Turkish regime is waging alone. The occupation took place with the consent of various states and parties, such as Iran, Iraq, the Kurdish regional government, the Federal Republic of Germany, Europe and all NATO partners. In particular, however, it is the United States that has a central share in responsibility for ethnic cleansing, ecocide and the use of poisonous gas."
The USA controls large parts of the airspace over the Middle East and thus also over Kurdistan. FED-KURD said that not a single air strike could take place without direct approval from Washington. "The Turkish army is bombing large areas with it, on the one hand, to intimidate the local population and urge them to flee, and on the other hand, to cause lasting damage to nature."
The US showed their support for the plans of the Turkish state as early as 2018 when they offered a high bounty on three members of the Kurdish liberation movement as a "political gift", underlined FED-KURD. The US continue to support the genocidal policy of the Turkish regime and indeed, shortly before the start of the attacks on South Kurdistan in April, with the fact that the bounty on offer will continue to exist.
The Free Kurdistan Federation of East Germany called "on all activists to take to the streets and stand up against isolation, fascism and occupation so that we can create a space for peace, freedom and democracy."
The protest will take place on Wednesday, 28 July, in front of the US Embassy at 11 am.