First martyrs of YPJ remembered
Silava and Bêrîvan fell during the foundation process of the YPJ.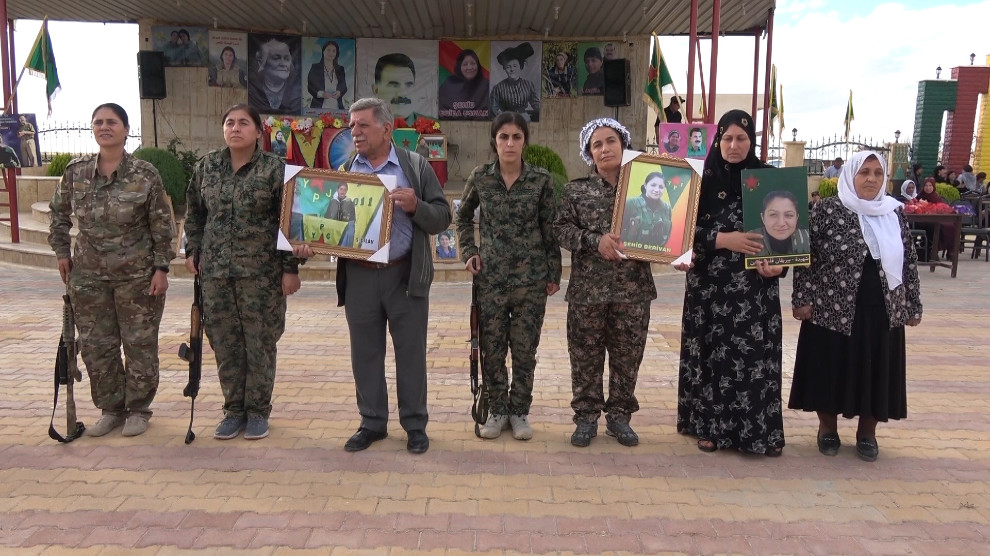 The General Command of Women's Defense Units (YPJ) staged a military ceremony to pay tribute to the first martyrs Silava Efrîn (Meryem Mihemed) and Bêrîvan Qelender (Xemgîn Nûcan).
Speaking at the ceremony, YPJ Commander Newroz Ehmed recalled that Silava and Bêrîvan fell during the foundation process of the organization, saying; "The struggle developed in the person of Martyr Bêrîvan and Silava has grown with the patriotism of the region's women and the resistance of the youth. The resistance led by women has become the freedom struggle of Kurdish, Arab, Circassian, Syriac and Armenian peoples."
Speaking after, martyr Bêrîvan's sister Bêrîvan Efrîn said the following; "Heval (Comrade) Bêrîvan grew with patriotic feelings and got organized with the spirit of freedom. She never bowed to repression and pressure, and she led resistance in the ranks of YPJ."
Silava's father Şahîn Efrîn said; "Martyr Silava got to know the path of truth at an early age and joined the resistance. She knew the fact that the path of truth for these lands is the path of Leader Apo (Abdullah Öcalan) and martyrs of Kurdistan."
The ceremony ended with slogans.