Foreign delegation visited HDP in Ankara
Parties and movements from Tunisia to Lebanon visited the HDP in Ankara.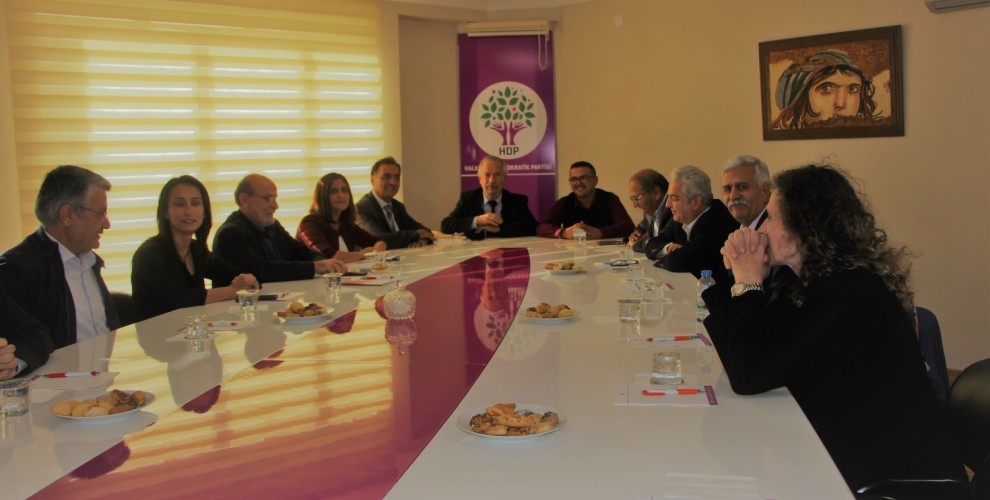 People's movements from many countries from Tunisia to Lebanon, political parties and institutions have visited the HDP in Ankara.
The delegation visiting the HDP was composed by Walid Abbasi, Tunisian Popular Front Foreign Relations Officer, Ahmed Dagher, Lebanese Communist Party Foreign Relations Politburo member Mohammed Hachico, Palestine People's Liberation Front Politburo Member, Abu Ali Ahmed, Lebanese People's Liberation Party Members Alex/Iskendar Keuchkarian, Lebanese People's Democratic Party and Foreign Relations spokesperson Sanaa Debbag.
HDP Women Council Spokeswoman, Dirayet Dilan Taşdemir, HDP Honorary Co-President Ertuğrul Kürkçü, HDP Party Assembly and Foreign Relations Commission member Nazmi Gür and HDP Deputy Tülay Hatimoğulları welcomed the foreign delegation at the HDP headquarters.
During the meeting, issues such as the attacks on the Kurds and HDP, the common struggle and internationalist solidarity, as well as the developments in the Middle East were discussed.