French anarchist women donate to Jinwar village
Female members of the Libertarian Alternative (Alternative Libertaire - AL) sent donations to Jinwar, the women's village in Rojava.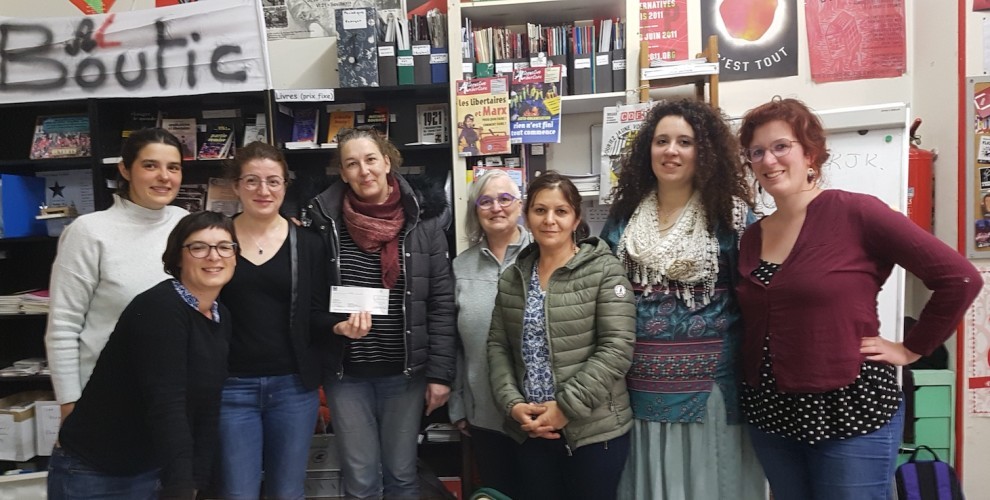 Female members of the Libertarian Alternative sent a checque to Jinwar in solidarity with the village.
Kurdish Women's Movement France (TJK-F) activist Hazal Karakus visited the anarchist women in their social center upon their invitation and spoke to them about the reason Jinwar Women's Village was founded and how it operates.
THE JINWAR VILLAGE
Karakus gave a presentation on Jinwar, jineology, Kobane, democratic confederalism and the ongoing hunger strikes, then answered questions from the audience. Karakus was given a checque to be delivered to the Jinwar village and thanked the Libertarian Alternative in the name of the women of Jinwar.
The Jinwar project was launched in 2016 by women's institutions in Rojava, who researched examples of historic and current women's villages and female living spaces, held meetings with engineers and started the construction of the village.
On March 10, 2017 the village's foundations were laid. The construction of Jinwar was completed in 2018 and the village was opened for settling by the end of the year. All houses in the village are made of kerpic, the local mudbrick, in an effort to be nature-compatible. The Jinwar women's village has 30 houses, a school named Mother Uveys, the Jinwar Academy, a medical center, a bakery and a shop. Women started organizing efforts after they settled in and formed their assembly.
LIBERTARIAN ALTERNATIVE
The Libertarian Alternative (Alternative Libertaire) is an anarchist organization situated in France and Belgium, aiming to create a libertarian communist society without class or state, for economic self-government and planned production and distribution.
The movement has neo-platformist and revolutionary syndicalist leanings and was founded in 1991, after the Collective Young Libertarians and Libertarian Communist Workers Union joined together.
The monthly journal by the organization under the same name had used a Syrian YPJ fighter in their cover photo with the title, "Kurdistan-revolution" with quotes from the ANF. The organization also has published a book titled "Kurdistan - Self Government - Revolution" written by their members who went to Rojava.