German film maker acquitted in YPJ case
Munich Administrative Court ruled to acquit film maker Uli Bez, who was on trial for posting a YPJ flag on her social media accounts.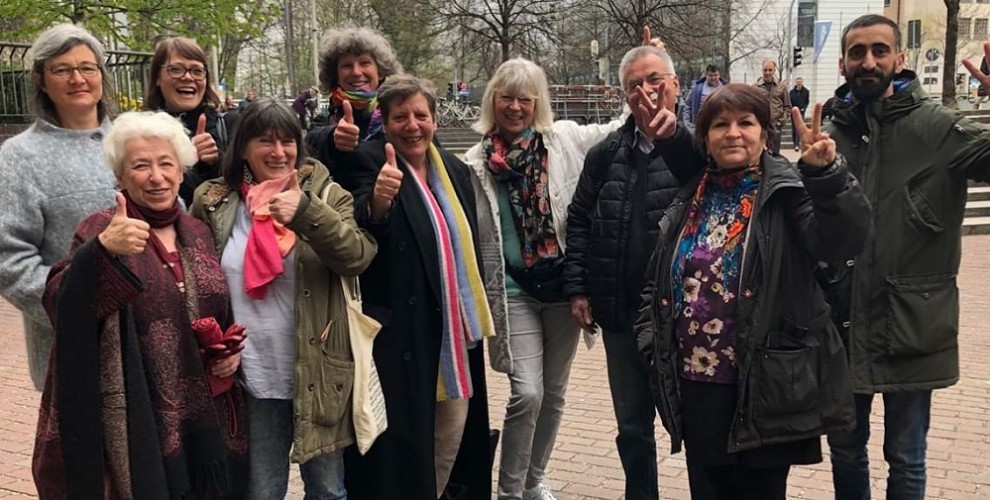 Another investigation for displaying YPG/YPJ flags was launched by Bavarian state police and prosecutors recently when film maker Uli Bez was investigated for posting a YPJ flag on her Facebook account. The Munich Administrative Court issued a ruling on Uli Bez's trial.
During the 1.5 hour trial, the court stated that a connection between the YPJ flag and the banned PKK was not proven and acquitted film maker Bez. A group of activists stood by Bez during the trial.
Uli Bez said the court's ruling is a positive thing and thanked everyone who supported her. Bez had first faced the court on March 15, on accusations of "propaganda for banned organization PKK". Bez had made a statement before the hearing and criticized Bavarian security and judicial forces heavily, saying:
"I am absolutely without fear, faced with this investigation and trial. I am not compromising my stand either. I want to also state that I stand in solidarity with those who resist for human rights and democracy in prisons in turkey. I stand with the Kurds for democracy and women's rights. If the court rules to fine me, I won't pay it. They can throw me in prison if they like, I can serve time if necessary."
Renowned German peace activist Claus Schreer had been tried in the same court in Mach and had been sentenced to a fine of 70 days, at 40 Euros a day for displaying a banner with Ocalan's photograph that read "Freedom for Ocalan" and a YPJ flag. Claus Schreer, sentenced to a total of 2800 Euros, said, "I will continue to call for freedom for Ocalan."
YPG/YPJ-PHOBIA IN BAVARIA
The special practices stand out in Bavaria, Germany against YPG and YPJ, who ended a vile terrorist organization that was against all humanity and garnered praise from the world. There is no official ban against the organized forces in Western Kurdistan in Germany, but the Interior Ministry banned YPG/YPJ and SDF flags as part of PKK propaganda with a notice sent out on March 2, 2017.
One of the states that implement a strict interpretation of the notice is Bavaria. People who post YPG/YPJ flags on their social media accounts to support the struggle against ISIS gangs in Rojava Kurdistan and Syria have their homes raided, investigations launched against them and are tried and sentenced to fines.