HDP candidates canvassing across the country
Eleven days left to the 24 June parliamentary and presidential elections in Turkey.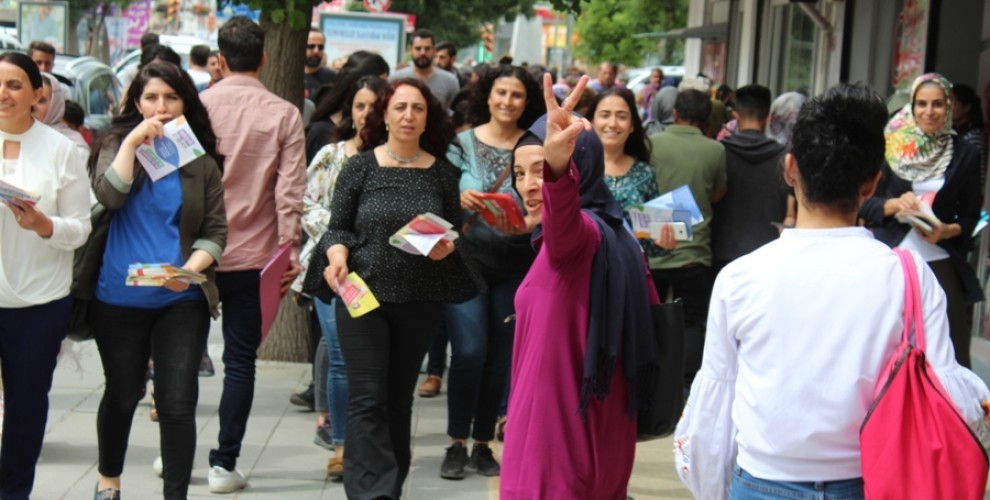 The HDP (Peoples' Democratic Party) is campaigning literally day and night and across the country in order to maximise its effort before the 24 June parliamentary and presidential elections.
Canvassing is being carried out door to door, rallies are taking place in all the main squares of the country and candidates are meeting all sectors of society.
TUŞBA
HDP Van deputy Tayip Temel, was campaigning on Tuesday with Tuşba HDP district organization.
The HDP delegation visited shops and the industrial site to listen to the problems of the workers and shopkeepers.
The HDP candidate pointed out that the AKP government has been implementing policies which actually made people and workers poorer and poorer.
Temel said to the people that 24 June will be the date to say 'stop' to this regime and stop to exploitation of workers.
IPEKYOLU
HDP Van Province co-chair, Yadisen Karabulak, DBP (Democratic Regions Party) Provincial co-chair, Ayla Tarhan, candidates Muazzez Orhan and Asuman Yılmazer, members of HDP Women's Council and TJA (Free Women's Movement) activists handed out leaflets and election information.
HDP deputy candidate Murat Sarısaç, Ipekyolu District co-chairman Edibe Babur and Ipekyolu Municipality co-chairman Beritan Tayan visited Kevenli TOKI District Market and talked with the public.
ERCİŞ
HDP Van deputy candidate Bedia Özgökçe visited Erciş district stopping at hairdressers and the hospital patients. Özgökçe noted that the AKP government, which has been unable to open a state hospital in Erciş for 10 years, is now promising one.
MURADIYE
HDP Van deputy candidate, Asuman Yilmazer, DBP Van Provincial co-chairman Ökkeş Kawa and HDP district executives visited Muradiye district centre as part as their election work.
Muradiye tradesmen and people met the HDP candidate with interest and asked questions.
BAHÇESARAY
The HDP reached the borough of Altındere (Arınç), some 17 km east of the town of Bahçesaray.
HDP Van candidate Mokaddes Karakoç, HDP Van MP Adem Geveri, Bahçesaray District co-chair Burhan Fidan, Peace Mothers activist Zekiye Kara and politician Musa Itah went canvassing in the borough.
HDP deputy candidate Mukaddes Karakoç thanked the Arinç people for their enthusiastic welcome.
Karakoç stated that the reasons for coming here were not only votes. "The important thing is to keep our unity. If we can build our social unity, then we can achieve social peace, freedom, democracy, which is our target. Anyone who has reached this awareness will feel the need to vote for HDP and Demirtaş on 24 June".
Karakoç stated that she could not see many women while visiting tradespeople in the centre and that women should be involved in every field of life and at the same time should be in active politics.
Karakoç said that Bahçesaray women are very hardworking and brave, and that they should be able to put this courage on the liberation of the society.
"Women should take initiative on their own and work for HDP and Demirtas", she said, adding that the HDP is an opportunity for women.
KARS
In Kars, the HDP is carrying out hectic election work. HDP candidate Ayhan Bilgen met the people in Kağızman district.
HDP deputy candidate Arzu Moco began canvassing early in the morning in Digor.
AĞRI
HDP Ağrı candidates Dilan Dirayet Taşdemir, Berdan Öztürk, Abdullah Koç and Kezan Dumlu met with people in the district of Diyadin as part of their election campaign.
Residents of the district met the HDP candidates with the slogan "We will triumph through resistance" in front of the party's building.
Kezban Dumlu said: "Are we ready to say goodbye to those who denied Kurds on 24 June? I believe that on June 24, the Kurdish people will go to the polls and and send the enemies of the Kurds where they deserve".
Dilan Dirayet Taşdemir said: "Diyadin is a heroic place. You never bowed to oppression. The people of Diyadin will go to the polls and send their greetings to Edirne, to our Presidential candidate Selahattin Demirtaş on 24 June".
ARDAHAN
HDP Ardahan candidates Taşkın Aktaş and Öztürk Polat met the people in the town of Çıldır. Candidates visited the Animal Market in the morning, then visited the artisans in the district centre. The candidates who listened to the complaints of the artisans underlined the importance of the 24 June elections.
Aktaş said: "We promise to bring peace, brotherhood and justice to the people of Çıldır".
MUS
In Muş HDP candidates Mensur Işık and Gulistan Kılıç Koçyiğit made a visit to the Sugar factory. The candidates handed out election material and met shopkeepers and workers.
ERZURUM
HDP candidates for Erzurum met people and went to the districts of Horasan and Köprüköy. The HDP convoy was met with enthusiasm by the people.
IGDIR
HDP candidates Kıznaz Turkeli and Habip Eksik carried out their election work together with a crowded group of party members.
The HDP group visited businessmen and people and listened to their problems while explaining the HDP manifesto for economy and trade.