HDP holds congress in Izmir
The HDP Izmir Association elected a new executive committee. The congress was dedicated to the murdered HDP member Deniz Poyraz.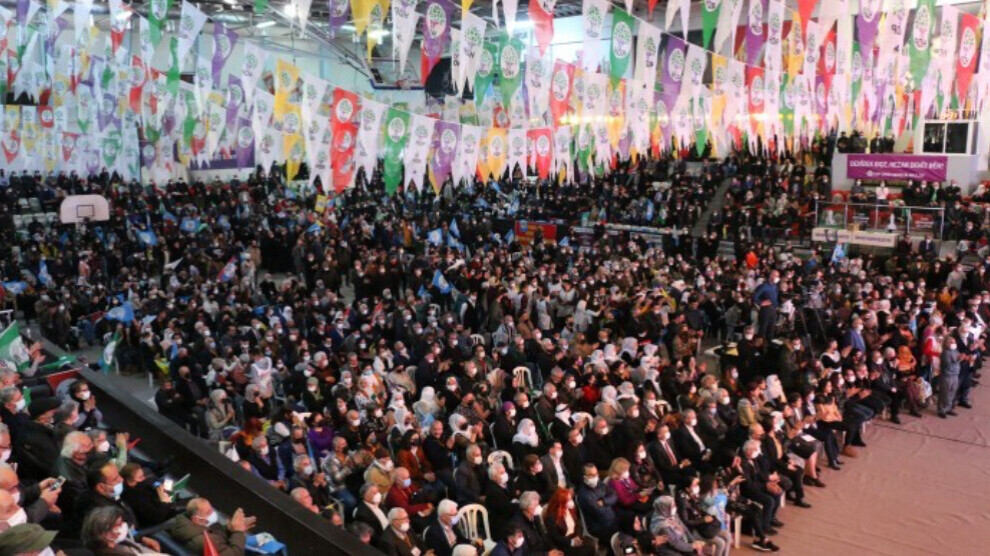 The HDP Izmir organisation has elected a new executive committee. The new co-chairs are Berna Çelik and Vedat Çınar Altan, replacing the previous dual leadership of Besriye Tekgür and Kadir Baydur.
Thousands of people attended the congress at the Konak Cultural Park. The meeting was held under the slogan "With hope and courage we organise against fascism" and was dedicated to Deniz Poyraz, an activist murdered by the Turkish fascist Onur Gencer in the premises of the HDP federation in Izmir last June.
Even before the congress began, there was a militant atmosphere in the event hall. Banners hung on the walls reading "Denîzek biçe, hezar Denîz bên" (One Deniz goes, a thousand Deniz come), "Justice for Aysel Tuğluk and all sick prisoners", "Women defend peace against war, exploitation and racism", "We defend ecological life against the exploitation of nature" and "We are everywhere against male-state violence, war and poverty".
Deniz Poyraz's parents and representatives of political parties and civil society organisations attended the congress as guests of honour. HDP Co-chairperson Pervin Buldan was the keynote speaker. In her speech, Buldan described the coastal metropolis of Izmir as a "garden of peoples" and pointed to the multi-ethnic population that amazes her every time she visits. Referring to the overcrowded event hall, Buldan said: "Whoever said that the HDP cannot even hold a congress anymore and will disappear from the streets, let them look at this hall. Do we still exist or not? Of course, it is not only about our congresses, the HDP is on the streets and squares alongside the labourers, the women and the youth."
Neither in the ban proceedings against her party nor in the show trial against the former HDP executive committee and dozens of other defendants, known as the "Kobanê trial", could the prosecution present evidence for its accusations, Buldan continued. She added that the HDP continues to be on the march with all people calling for peace, freedom and democratisation in Turkey.