HDP meets people in Samandağ
A delegation of the Peoples' Democratic Party met people in Samandağ, Hatay. The delegation and people conveyed the message of enhancing the struggle and stressed that the AKP-MHP bloc is responsible for all current problems.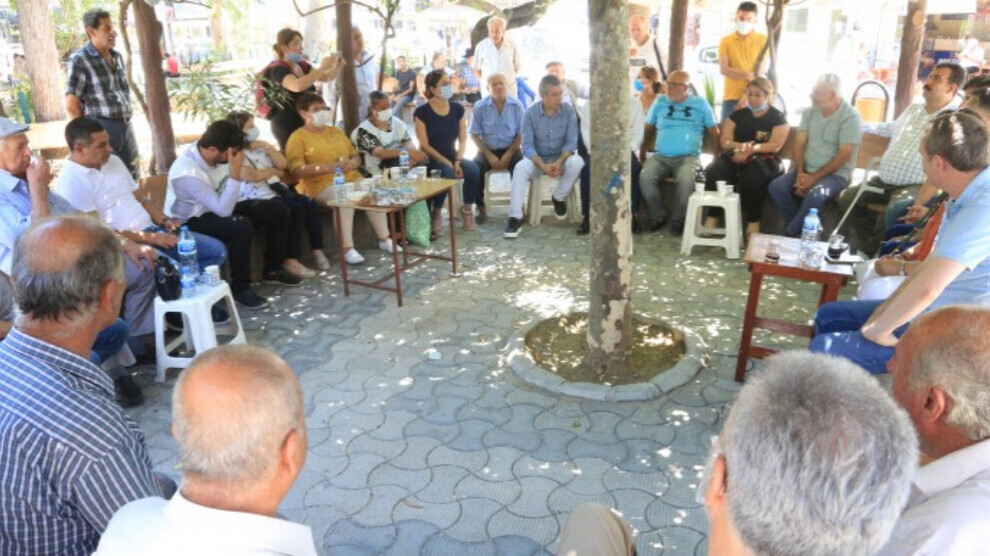 A delegation made up of Tuncer Bakırhan, co-vice chair of Peoples' Democratic Party (HDP); Meral Danış Beştaş, HDP group deputy chair; HDP deputies Tülay Hatimoğulları, Fatma Kurtulan and Kemal Peköz; members of HDP Central Executive Board (MYK) and Party Assembly (PM); administrators of Socialist Re-Foundation Party (SYKP) met people in Samandağ district of Hatay. Within the campaign "We are HDP, we are everywhere", the delegation paid visits to Samandağ Association of Mukhtars and shopkeepers on the last day of Çukurova program.
'AKP-MHP bloc is responsible for all problems'
Speaking at the visit, Meral Danış Beştaş pointed out the significant roles of mukhtars in terms of local administration and said, "The reason of all current problems is the monist approach of AKP-MHP bloc."
After listening to the mukhtars and their problems, the delegation then paid visits to shopkeepers in the center of district with a warm welcome.
Indicating the economic crisis, shopkeepers said, "We have nothing to tell; everything is obvious!". Recalling the remarks of İbrahim Kalın, spokesman of Presidency of the Turkish Republic who had said 'We reject the suspension of democratic politics and disregarding of the people's democratic will in our fellow country Tunisia", a shopkeeper said, "You should in response speak out everywhere against the appointment of the trustees and imprisoned deputies. Do these actions not disregard people's democratic will?" Another shopkeeper said, "Not only me; all Samandağ people complain about this political power and current crises."
Subsequently, the delegation met people at Abdullah Cömert Square and listened to citizen's problems. During the conversations, the main subjects were the closure case against the HDP, the route map to be followed in forthcoming elections and judicial system in Turkey. Speaking here, Meral Danış Beştaş stressed that they struggle for democratization in the country. The delegation finally visited the shopkeepers in Small Industrial Area of Samandağ district.