Hunger strike commenced at Amnesty International office in London
The civil disobedience action staged at the Amnesty International office in London earlier today, has turned into a hunger strike action against the isolation of Abdullah Öcalan.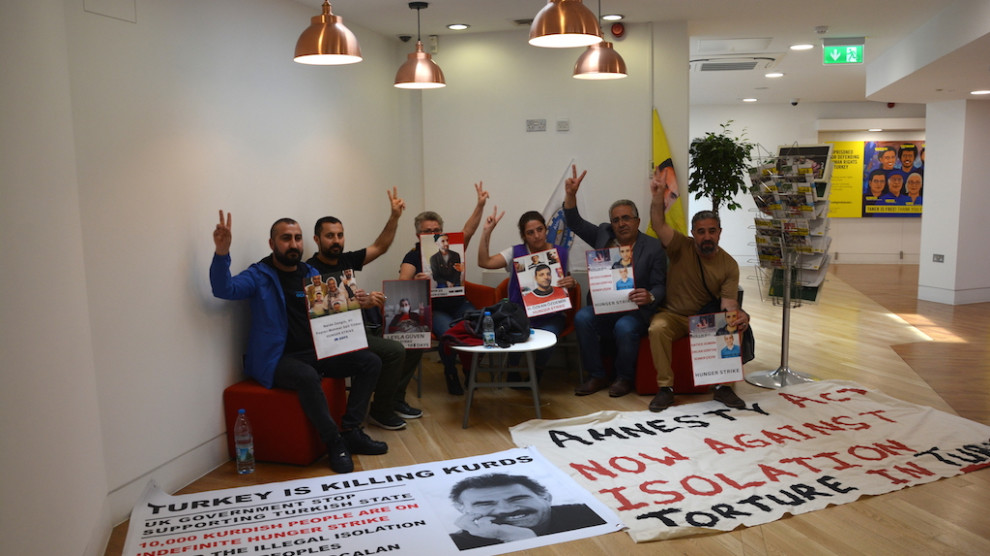 The Cultural Association of Immigrant Workers (Gik-Der) and Kurdish People's Assembly promoted a demonstration in London on Wednesday in protest at the aggravated isolation imposed on Kurdish People's Leader Abdullah Öcalan in Imralı Island Prison in Turkey.
The protest began with a civil disobedience action at the Amnesty International (AI) offices in London. The group did not leave the building despite all the insistence.
Four people representing the demonstrators had a meeting with the AI Turkish Desk Chief and told about the abuses experienced by the prisoners in Turkey and stated that the silence of Amnesty International in the face of the isolation of Abdullah Öcalan was unacceptable.
The group also submitted the AI Turkish Desk a dossier containing details on the matter, calling on the organization, which has so far remained silent, to undertake responsibility and take action as thousands of prisoners are on an indefinite hunger strike demanding the end of the isolation, and their health conditions have already exceeded the critical threshold, with several prisoners having already been put in solitary confinement.
AI Turkish Desk stated that they were following Öcalan's conditions but were not able to do something about it for now, while they on the other hand asked for lawyers to submit them an official report regarding the repression against prisoners.
During the one-hour meeting, the Kurdish activists urged Amnesty International to release a statement condemning the isolation of Öcalan. When their requests were not met, six activists announced starting hunger strike resistance in the AI office.
A statement made on behalf of the hunger strikers said they were determined to continue their action which they started to stand against the attitude and silence of Amnesty International
Following the launch of the action, dozens of people entered the building and expressed their solidarity with the hunger strike activists. More people have gathered at the scene in solidarity with the protest.