Hunger strikers Velat Kaya's mother: Silence kills our children!
Yasemin Kaya is the mother of hunger striker Velat Kaya who has been fasting since 1 March in Amed prison and said: "We stand by our children and we'll never retreat".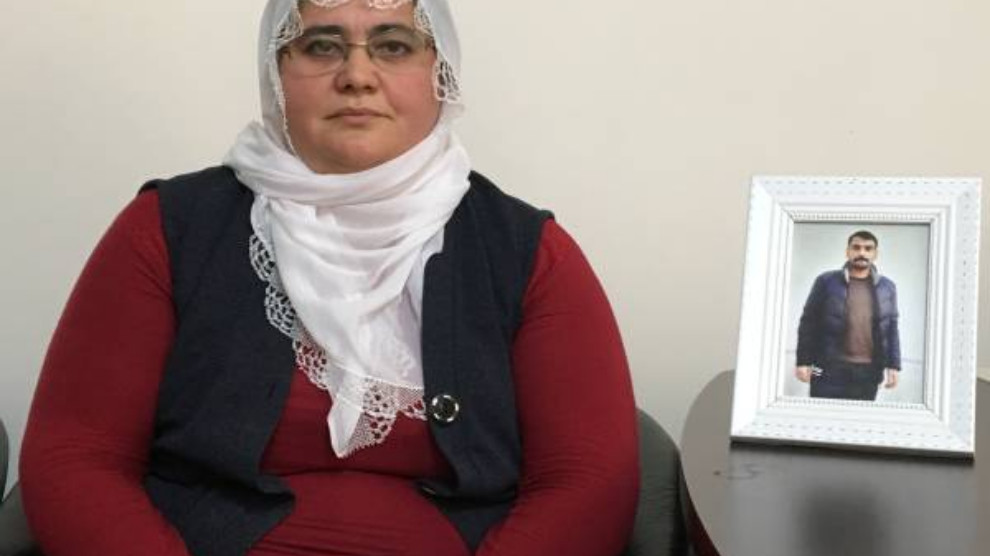 The hunger strike resistance led by DTK co-chair and HDP Hakkari MP Leyla Güven demanding the end of the isolation of Kurdish People's Leader Abdullah Öcalan, spread to all prisons in Turkey and Kurdistan on 1 March as well as to many cities in Europe and the world. 
The ongoing hunger strike is the cause of many health problems among activists. 
The situation is especially hard for prisoners on hunger strike as they are not given the appropriate attention and facilities. PKK and PAJK prisoners have been on hunger strike since 16 December 2018. Many have already crossed the critical threshold and are complaining of problems to internal organs, blood visiting and other issues exposed by their families. 
As of 1 March the number of prisoners on hunger strike increased to over 2,000. Velat Kaya, who has been on an indefinite hunger strike in Manis-Akhisar Prison for 49 days is one of these prisoners.
He has always been interested in politics
Kaya's mother Yasemin Kaya told ANF about the resistance of her son and said that they had been able to visit him and found he is not in good shape. The family was forced to leave Çınar in the '90s because of the repression of the Turkish state and migrated to Amed, where Velat was born. 
Yasemin Kaya, who said that her son has always been very responsible and hard working, added: "Since he was young Velat loved politics. When we sent him to school, he did not study much, preferring to go to demonstrations and actions." 
Around the time of the 15 July military coup attempt, reminded Yasemin Kaya, "Vedat had gone to Istanbul to visit his aunt. At a checkpoint they took his identity card and checked him through. When they realized that he was a Kurd, they took his phone and went through it. They saw what he had shared on social media and took him into custody. My son was tortured for 8 days. After so much torture and insult, they directly threw him in prison. Four months later he was sentenced to 6 years and 10 months."
Bad health condition
After his arrest, Velat Kaya, who was in prison in Silivri, Istanbul, was deported to Manisa-Akhisar because he had previously been on hunger strike for 3 days. Yasemin Kaya said that she could not see her son for a year because of their situation. "My son has been on an indefinite hunger strike since 1 March. His health situation is not good at all."
Velat Kaya's mother added: "My son's wife had gone to visit him. She said that he has wounds in his body because of the fast and his eyes are read and he lost 7 kilos so far.  This problem needs to be solved as soon as possible. The isolation on Öcalan must be lifted. Our children would then be able to abandon this hunger strike without further deterioration of their health."
We will fast until isolation is lifted
Yasemin Kara was able to talk to her son by phone and she could say he is not well. "He was well, and some of his friends have been fasting for over 100 days. They have difficulties walking and seeing." 
Yasemin Kaya called on everyone to be sensitive and act and confirmed that the prisoners are determined to continue their hunger strike until isolation against leader Abdullah Öcalan is lifted. 
No going back
A friend who was in the same ward with her son Velat has been on hunger strike for more than 120 days, said Yasemin Kaya adding: "This friend is very ill and Velat was always talking about him. He was taking morale and strength from him. He cannot stand." 
The mothers went on a solidarity 3-day hunger strike in Amed Bar. 
"We want all families to be sensitive about this. We want them to rebel to this situation. - she said - Deaths will come from this silence. Enough. We must support each other and stand next to our children. We will continue our actions. Our actions will continue until we get rid of this isolation against the leadership and our children. We're behind our children and we won't step back."