Inhumane and dangerous: seasonal work in Turkey
Asrın Keleş from the HDK Ecology Commission describes the inhumane and life-threatening conditions of harvest workers in Turkey.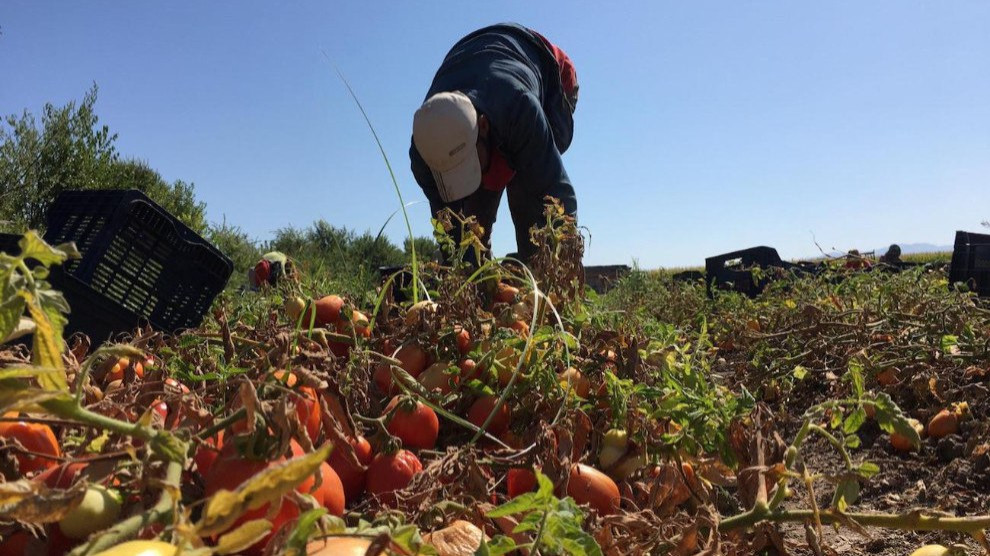 Seasonal workers also live under difficult conditions in Turkey. According to information from Asrın Keleş of the Ecology Commission of the Peoples' Democratic Congress (HDK), 45 percent of the seasonal harvest workers come from Northern Kurdistan. "This is labour migration", says Keleş and explains: "Above all, the workers do not have a reasonable accommodation. They live in tent cities under unhygienic and unhealthy conditions. But this is only one problem of many. For example, there are health problems due to the chemicals used. It is particularly bad for women and children. Harvester is the last profession that people in Turkey want. They have to work for a very low wage in inhumane conditions, the income remains below the hunger line."
Without electricity and water
The biggest problem for the field workers is pure survival, says Keleş: "Politics does not care about the harvest workers. Nobody says anything about it, nobody wants to know about their difficulties. Even under normal conditions they live in an unhygienic environment, now they have to fight the pandemic. This has made their life even more difficult. For example, there have been many cases of diarrhea lately. If there is no electricity and no water, there can be no hygiene. People are encouraged to observe the rules of distance, but up to 17 people live in a tent and the toilet is used by at least 50 people. Hygiene is not possible."
Enforcing rights through organized struggle
Asrın Keleş from the HDK Ecology Commission says that each of the 81 provinces in Turkey should attract the necessary local labour force: "Decent accommodation must be built near the places of work. Instead of encouraging labour migration, each province should ensure its own labour force. No one should be forced to go to Ankara from Urfa, for example, to work. Political solutions must be found for seasonal workers. For the workers who are exploited in Turkey and around the world and who do hard labour, we must work together. I am convinced that we can enforce our rights if we fight for them in an organised way."