International Delegation Against Isolation visits Öcalan's lawyers
12 members of the 'International Delegation Against Isolation' consisting of 36 people from 7 different countries met with lawyers of the Istanbul-based Asrın Law Office which legally represents Kurdish leader Abdullah Öcalan.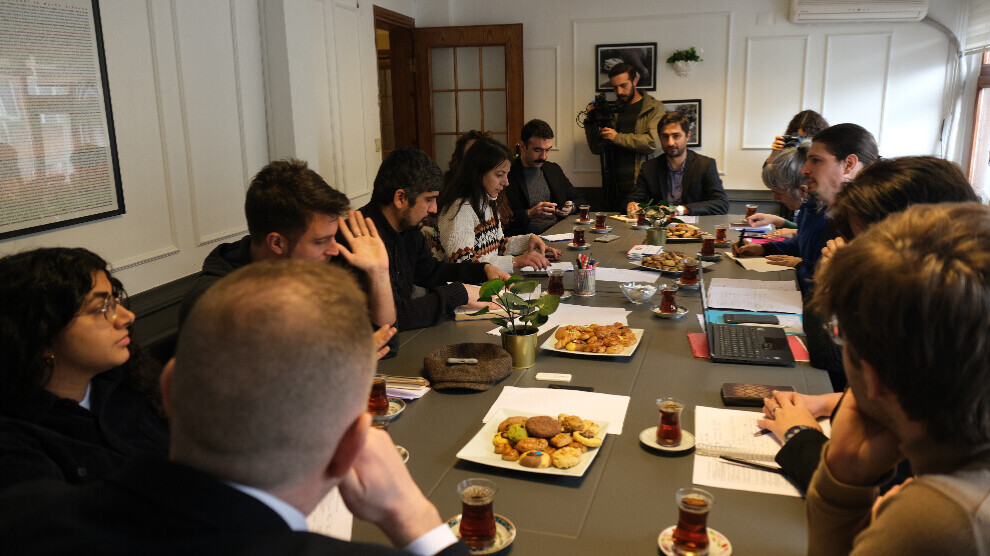 The 'International Delegation Against Isolation', consisting of 36 lawyers, journalists and academics from 7 different countries, was formed against the isolation of Kurdish leader Abdullah Öcalan. 12 members of the delegation will hold meetings in Istanbul, Ankara and Amed (Diyarbakir) between January 25-28. The group first visited lawyers of the Asrın Law Office in Istanbul, which defends Abdullah Öcalan and his fellow prisoners, Ömer Hayri Konar, Veysi Aktaş and Hamili Yıldırım in Imrali Island Prison.
The delegation was welcomed by lawyers Raziye Öztürk, Cengiz Yürekli and Rezan Sarıca.
During the meeting expected to last two hours, lawyers of the Asrın Law Office will discuss the following topics; the international conspiracy that led to Öcalan's imprisonment, the isolation that has been going on for 24 years in the Imrali prison, the applications of lawyers to be granted access to Öcalan from whom no news has been received for the last 22 months, Turkey's stance and the findings of the European Committee for the Prevention of Torture (CPT) and its last visit to the Imrali prison in September 2022.
The provisional injunction decision of the United Nations (UN) Human Rights Committee regarding Öcalan and the new developments concerning the application will also be discussed at the meeting which is closed to the press.
 After the meeting, the delegation is expected to visit the Human Rights Association (IHD).