Isolation of Öcalan on the Swiss deputies' agenda
The hunger strike in Switzerland continues on day 7. The hunger strikers held a series of meetings in the Swiss National Parliament to draw attention to the state of Öcalan and all political prisoners.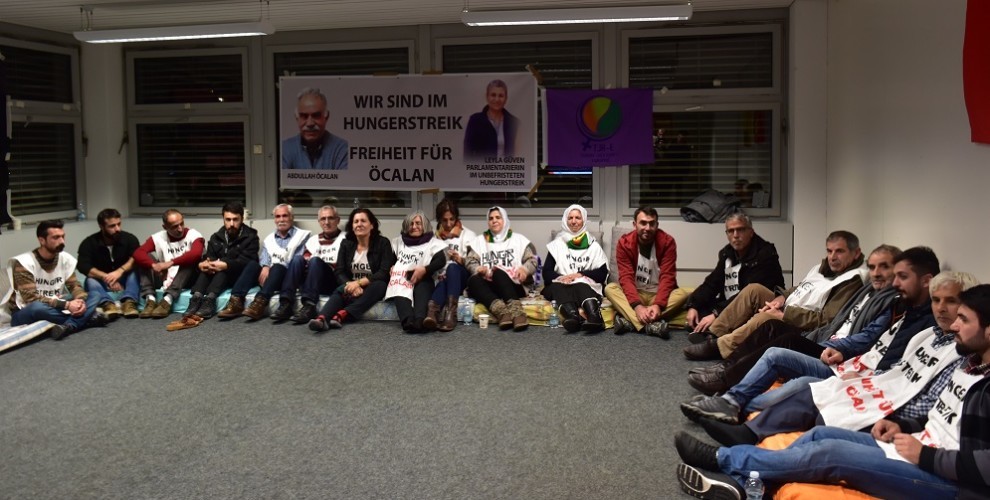 The hunger strike launched in Bern, Switzerland to support DTK Co-chair and HDP MP Leyla Guven's hunger strike and to break the isolation imposed upon Kurdish People's Leader Abdullah Öcalan continues on day 7.
A delegation from the hunger strikers in the Bern Democratic Kurdish Society Center held a series of visits with Swiss MPs from three political parties and pointed to the state of Öcalan, demanding that the parliament speak up against the situation.
"SWITZERLAND SHOULD SPEAK UP"
The activists met with Socialist Party of Switzerland (SP), Greens and Switzerland Radical Liberal Party (PLR) MPs separately and pointed to the aggravated isolation imposed upon Öcalan, stating that the approach of the Turkish state against a leader, who will play an important role in the solution to the Kurdish issue and peace in the Middle East, must be challenged with action. The activists spoke about Leyla Guven's protest and stated that her demand is the demand of millions of Kurds today, adding their demand that Switzerland speak up against the stand the CPT and Europe has taken, which serves to strengthen Turkey's hand.
GLÄTTLI: I WILL TAKE ÖCALAN'S SITUATION TO THE PARLIAMENT
MP Balthasar Glättli spoke during the meeting with the Greens and said he has read Öcalan's ideology extensively and that it is important that this ideology comes to life in Rojava today. Glättli added that Öcalan's theory is important for both Turkey and Europe and said he will submit a motion in the Swiss parliament to draw attention to the isolation imposed upon Öcalan.
Another MP in the meeting with the Greens was the Swiss-Kurdish Sibel Arslan. Arslan said, "I'm following the developments in Turkey and Rojava closely," and added that she will be monitoring the hunger strike protest and the matter itself closely as well.
SOMMARUGA: WE WILL FOLLOW UP
The activists also met with Socialist Party (SP) MPs Carlo Sommaruga, Margret Kiener Nellen, Fabian Molina and foreign secretary Peter Hug to voice their demands. Swiss Parliament Kurdish Friendship Group Chairperson and MP Carlo Sommaruga said the isolation imposed upon Öcalan has been voiced by the SP before as well, and added that the party thinks the hunger strike and the activists' demands are important. Sommaruga added that he monitors the issue closely and will continue to do so.
Activists also met with MP Christa Markwalder from the Swiss Radical Liberal Party.