KDK-E calls on people to join demos for Shengal today
The KCDK-E announced the plan of actions in solidarity with Shengal, to be held in many cities of Europe today.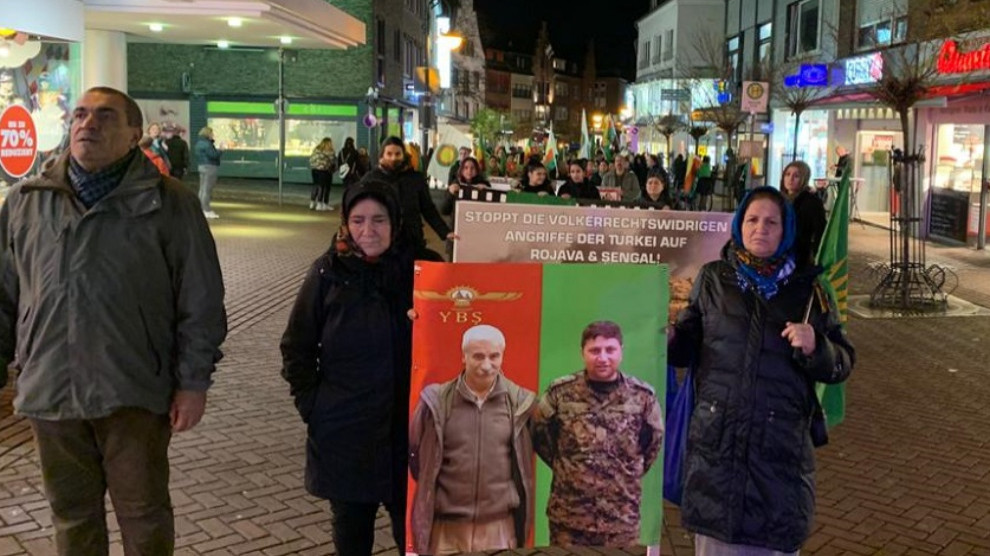 The European Kurdish Democratic Society Congress (KCDK-E) issued a a written statement to share the plan of actions and demos to be held today around Europe in support of Shengal.
The statement said: "This Saturday, Kurds across Europe will march against the massacre carried out by the genocidal Turkish warplanes in the village of Digur in Shengal."
The KCDK-E continued: "Fascist leader Erdogan has opened a war against the Yazidi people. It is important to participate in the marches that will be held today to express solidarity to the Yazidi."
The Congress invited "all Kurdish, Assyrian, Armenian, Turkish, Yazidi, Alevi, Christian, Muslim, women, youth, revolutionaries, democratic, ecologists, intellectuals, writers and artists to take part in the actions of solidarity with Shengal in the following countries and cities."
On Sunday, 19 January, the attack against Shengal will be protested to coincide with the arrival of Turkish President Recep Tayyip Erdogan in Berlin.
The action will take place at the Bundeskanzleramt- Reichstag at 10.00.
The actions and demos plan for today, Saturday 18 January, is as follows:
SWITZERLAND
Bern
Start place: Place de la Gare
Time: 15.00
AUSTRIA
Vienna
Location: Stepahnplatz
14.00
FRANCE
Marseille
Start place: Canabiere Square
Time: 13.00
Rennes
Location: Place du Colombier
Time: 14.00
SWEDEN
Stockholm
Location: Sergelstory
Time: 15.00
GERMANY
Duisburg
Location: HBF
Time: 14:00
Bielefeld
Location: HBF
Time: 15:00
Eslingen
Location: Bahnhofsvorplatz
Time: 14:00
Frakfurt
Location: Frankfurt HBF
Time: 14.00
Hanover
Location: HBF
Time: 12.00
Saarbrucken
Location: Europa Galerie
Time: 15.00
HOLANDA
UTRECHT
Location: Jaarbeursplein
Time: 13.00