Kurdish organisations mobilise for Düsseldorf rally on June 25
Kurdish organisations from all over Europe are mobilising for the Düsseldorf rally on June 25 when a large demonstration against the Turkish attacks will take place under the slogan "Defending Kurdistan means defending the revolution".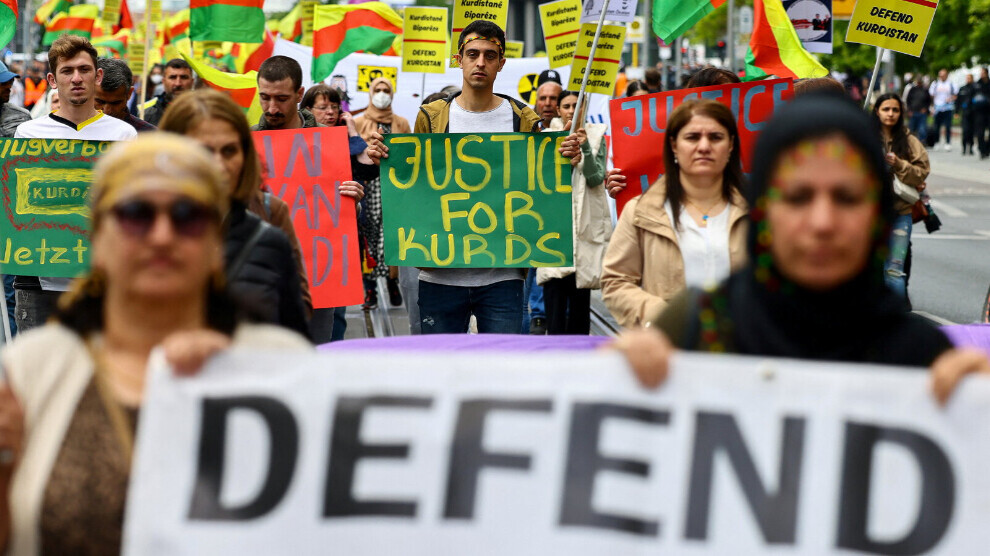 Under the umbrella of "Organisations and Institutions from Kurdistan in Europe", a broad spectrum of associations and organisations are mobilising for the demonstration organised by the alliance "Defend Kurdistan" in Düsseldorf on June 25. A large number of parties from South Kurdistan, from PUK to Gorran and from Rojava, from the PYD to the Left Party and the PDKS, are also calling for the demonstration. Organisations from Eastern Kurdistan such as KODAR and PJAK are also taking part in the appeal.
"All achievements are threatened"
The joint appeal says: "Today, the Turkish state is carrying out a cruel policy of massacres and occupation in Kurdistan. All the achievements and values of the Kurdish people are under attack. The Turkish state violates international law and conventions and relentlessly attacks South Kurdistan, Shengal and Rojava. As if that were not enough, chemical weapons are being used against the guerrillas and the Kurdish people."
"Resistance in the spirit of Kurdish unity"
Referring to the Turkish neo-Ottoman expansionism, the call states that it is a "total attack on the achievements won with great sacrifices" and that in order to defend them, it is the duty of every person in Kurdistan to mobilise for resistance: "It is necessary to rise together in resistance in the spirit of Kurdish unity against chemical weapons attacks, the murderous attacks on civilians and guerrillas, and against the occupation and attacks on Rojava, South Kurdistan, Shengal and Maxmur."
"Participation in the demonstration is a moral obligation"
On this basis, the associations state, "It is everyone's national, moral, ethical and human duty to participate in the demonstration against the Turkish policy of massacres and invasion under the slogan 'Defend Kurdistan' on 25 June. This is about defending our dignity, our future and our values."
The signatories of the appeal are as follows:
YNK (Patriotic Union of Kurdistan, PUK)
GORRAN Movement
KCDK-E (Congress of Democratic Societies of Kurdistan in Europe)
TJK-E (Kurdistan Women's Movement-Europe)
ŞÛÎ Party of South Kurdistan
Kongra Star (Women's Organization of Western, Northeastern Syria) Europe
Party of Laborers – South Kurdistan
PADÊ (Yazidi Freedom and Democracy Party)
Freedom Movement (Tevgêra Azadî)
PYD (Democratic Union Party)
P.D.K.S (Kurdish Democratic Party in Syria)
Kurdish Left Party in Syria (Partiya Çep a Kurd li Sûrî)
The Modern Kurdistan Movement - Syria (Tevgera Nûjen ya Kurdistanî-Sûrya)
PÇDKS (Left Kurdish Democratic Party in Syria)
Kurdish Democratic Party in Syria (El Partî)
Democratic Left Party in Syria (Partiya Çep a Demokrat li Sûriya)
Kurdish Reconciliation Party in Syria (Partiya Rêkeftin a Kurd li Sûrya)
Kurdish Reform Party in Syria (Partiya Çaksaziya Kurd li Sûriya)
Kurdistan Green Party in Syria (Partiya Kesk a Kurdistanî li Sûriya)
Kurdistan Democratic Party in Syria (Partiya Demokrata Kurdistanî li Sûriya)
Kurdistan Communist Party in Syria (Partiya Komanist a Kurdistanî li Sûriya)
PÎK (Kurdistan Islamic Party)
KKP (Kurdistan Communist Party)
Kawa Movement
PJAK (Free Life Party of Kurdistan)
Kurdistan Revolutionary Union (Yakyatî Şorşgêrî Kurdistan)
KODAR (Democratic Society and Freedom of East Kurdistan)
KJAR (East Kurdistan Women's Society)
Horam Platform
Platform Zagros
Plattform Yarsan
Yarî Kurd
Kurdish Democratic Progressive Party in Syria (Partiya Dimokrati Peşverû Kurdî kurdi Li Surîya)
Tevçand (Kurdish Culture and Art Movement)
Kurdische Gemeinde Stuttgart e.V
FEDA (Federation of Kurdistan Alevis)
NAV YEK (Federation of Yezidi Associations
Kurdisches Zentrum Berlin
CIK (Kurdistan Islamic Society)
Kurdish Institute - Germany
Kurdish Institute - Brussels
MŞD (Shengal Assembly Abroad)
YMK (Kurdistan Teachers Union)
YES (Union of Syrian Yazidis)
Kurdish Gemeinde Brandenburg - Berlin  
Umbrella Association of Yazidi Women's Councils 
DKF (German-Kurdish Forum) e.V Dresden
Mesopotamian People's Congress (Volkskongress Mesopotamien)
Mesopotamian Freedom Party (Freiheitspartei von Mesopotamien)
Kurdistan Human Rights Association (Menschrechtassoziation Kurdistan)
Kurdish United Nation Association (Civaka Kurd ji bo Neteweyên Yekbûyî)