Kurds hold sit-in in front of the UN in Geneva to protest Turkish invasion attacks
Kurds leaving in Switzerland met in front of the UN in Geneva against the invasion attacks, saluted the guerrilla resistance and called to action in Zurich.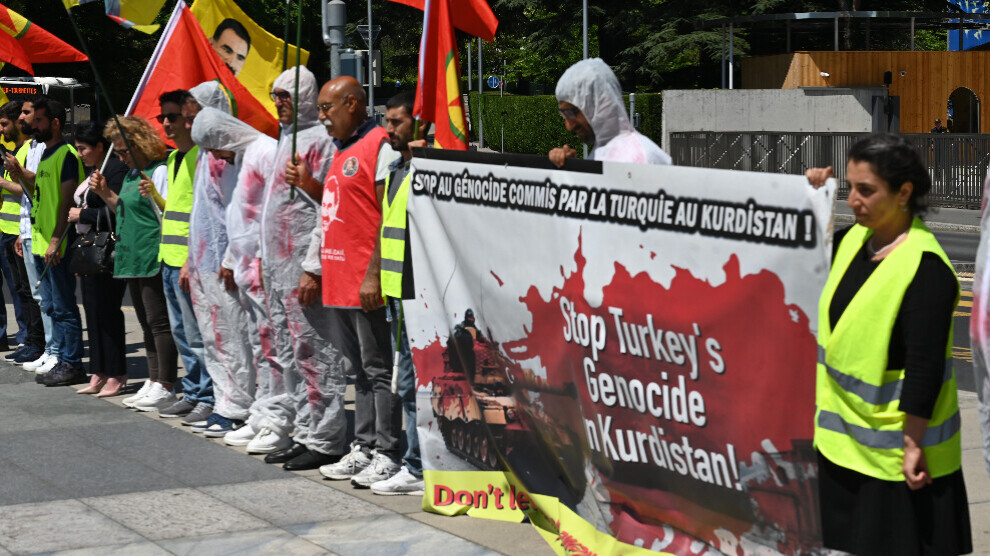 The sit-in in front of the United Nations (UN) in Geneva demanding freedom for Kurdish people's leader Abdullah Öcalan, was held today like every Wednesday since 25 January 2021.
This week, attention was drawn to the ongoing invasion attacks carried out by the Turkish state fascism on Medya Defense Areas, and a call was made to the UN to fulfil its responsibilities in regard to the allegations of the use of poisonous gas by Turkey.
A minute's silence was held for Zap and Avaşîn martyrs Rêber Andok (Veysel Diri), Armanc Kurdo (Baran Doymaz), Botan Amed (Ahmet Yener) and Çiya Garzan (Sait Gencer), who fell as martyrs in an action in which Turkey used chemical weapons.
Geneva Kurdish Community Center co-chair, Erdal Atasoy, pointed out that the Turkish attacks targeting the Medya Defense Areas with the cooperation of KDP and the Kazimi administration's invasion attacks against Shengal that have been going on for days are not independent of each other.
Atasoy said: "In the face of the guerrilla struggle, the occupying forces, which have been defeated time and time again, have once again launched an all-out attack. Within this attack concept, the occupying forces used chemical weapons within this attack concept. As Kurds, we will continue to expose the use of gas by the occupying forces and their partners wherever we are, and we will remind the authorized institutions, especially the UN, of their responsibilities."
The action ended with slogans, following the call for participation in the central action to be held on Saturday in the city of Zurich and promoted by TCŞ and Teko-JIN.
The march will begin at 1 pm at the Platzromenade (Landesmuseum) with the slogan "Bi Rihê Berxwedana Gerîla Werin Cenga Azadiyê".