Kurds protest in Geneva and Stockholm for Öcalan
As Kurdish youth launched a 3-day tent demonstration in Geneva, Switzerland, a similar protest was held in front of the parliament in Stockholm, Sweden.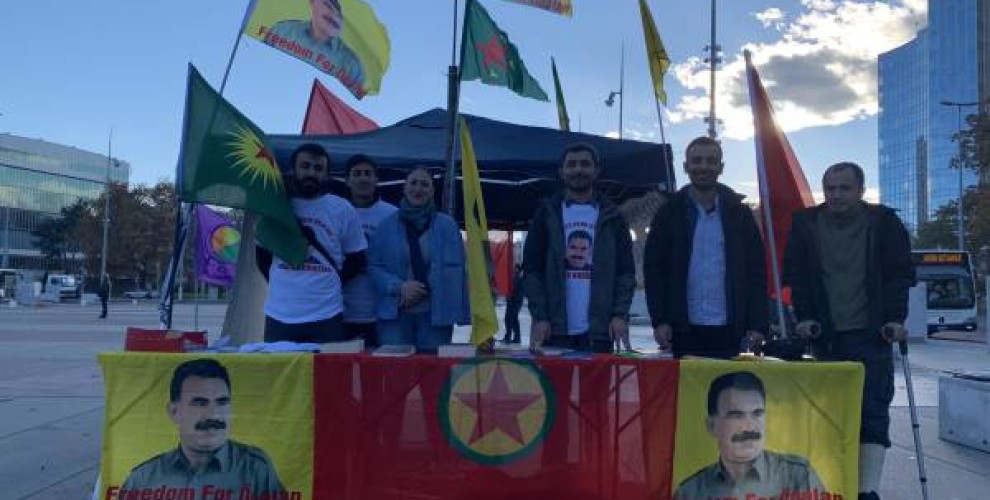 A 3-day tent demonstration was launched by the Tevgera Ciwanên Shoreshger (Revolutionary Youth Movement) in front of the United Nations Geneva Offices to protest the isolation imposed upon Kurdish People's Leader Abdullah Öcalan and to demand his freedom.
The tent was set up with the motto, "There is no life without the leader" and banners that read, "We are concerned for Öcalan's life" were put up. The tent was surrounded by PKK, KCK and TJK-E flags and Öcalan posters.
The protesters also condemned the US putting a reward on 3 PKK administrators and passed out flyers in French.
A press statement was issued in the name of the Tevgera Ciwanên Shoreshger which said the US decision last week is a continuation of the conspiracy against Öcalan. The youth movement said they don't recognize the decision and added: "Unti our leader is free, we the Kurdish youth will continue our protests non-stop."
The tent demonstration will be held between 13:00 and 18:00 until Wednesday in front of the UN.
The US decision targeting the PKK administrators will be protested in front of US Embassies en masse on Wednesday, November 14. The protest in Zurich will start at 11:00 in Dufourstrasse 101, and the one in Bern will start at 14:00 in Sulgeneckstraasse 19.
PROTEST IN FRONT OF SWEDISH PARLIAMENT
Another protest was held in front of the Swedish Parliament for Öcalan's freedom. The protest held on the call of the Stockholm Democratic Kurdish Society Center and the Amara Kurdish Women's Association includes a tent set up on the square in front of the Parliament. A cage was also placed in the square to protest the isolation, and white balloons with the words "Free Öcalan" on them were tied to the cage. The protesters placed candles in the front and placed signs demanding Öcalan's freedom.
Protesters also put up photos of PKK administrators targeted by the US, Murat Karayilan, Cemil Bayik and Duran Kalkan, and a banner that read "Take your bloody hands off the Kurdish people".
Protesters wore vests with Öcalan's photo and the words "Freedom for Öcalan" on them, and passed out flyers to inform the public about the isolation.
Protesters played anthems in Kurdish and English through the loudspeakers in the square and condemned the isolation, as well as reading the press statement periodically.
The statement said millions of Kurds demand Öcalan's freedom and added: "Öcalan's and all political prisoners' release is a mandatory step towards peace."
The statement also said the aggravated isolation imposed upon Öcalan causes an escalation of the war: "Erdogan does all he can to prevent a peaceful solution. We want peace and a democratic solution in Kurdistan. Abdullah Öcalan's proposal of autonomy within a democratic country is the guarantee of a solution."