Kurds today protest the Treaty of Lausanne on its 98th anniversary
Kurds and their friends will protest the signing of the Treaty of Lausanne, which divided Kurdistan into four parts 98 years ago.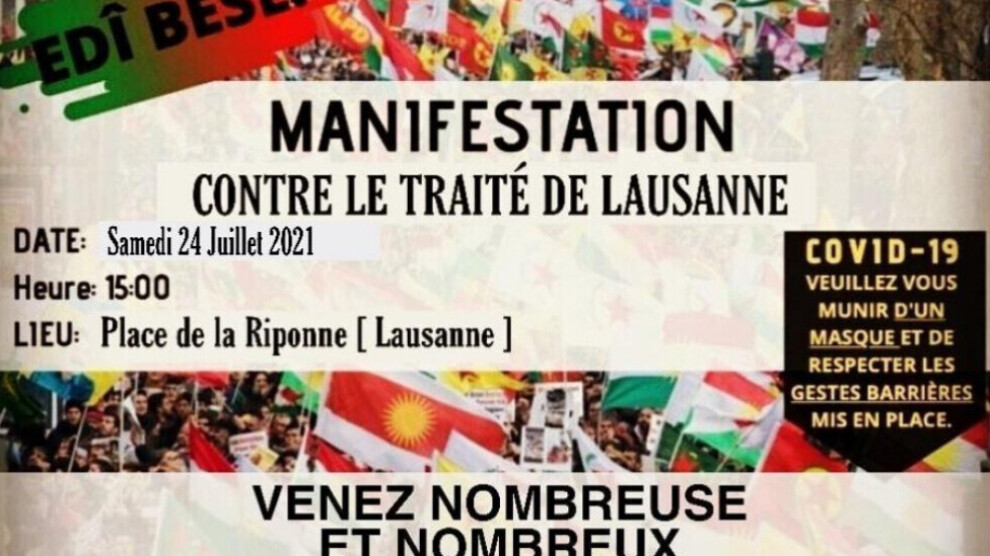 The Treaty of Lausanne was signed 98 years ago by the major colonial forces of the time. Britain and France cut slices of the world, creating borders and supporting the formation of new states. In 1923, the Treaty was signed, ending the Ottoman Empire, and creating the Republic of Turkey with different borders from the empire. In 2023, Erdogan intends to change the conditions of the Treaty. The AKP government wants to regain what the Ottoman Empire lost – territories. To do this, they want to occupy the so-called "safe zone" from Afrîn in Rojava to Kirkuk in Bashur, expecting a change of conditions to be possible in 2023. The current invasion and war are to ethnically cleanse the area, assimilating it into the Turkish nation state.
The Treaty of Lausanne has shaped the Kurdish struggle – from the Dersim rebellion of 1936 to the Turkish forces that are currently attacking Idlib and preparing for an invasion of Kobanê.
Today, a march will be held in Lausanne to protest the Treaty which, 98 years ago, divided Kurdistan into four parts and to promote Kurdish national unity.
In a written statement, the Swiss Democratic Kurdish Society (CDK-S) co-presidency Council said that the march would be held with the slogan "Let's Defend Kurdistan Against the Turkish Occupation".
The statement called on all Kurds and their friends living in the diaspora, especially Switzerland, to join the march to be held on 24 July, and said: "The insatiable and overly ambitious capitalist system continues to make our world uninhabitable. Diseases, disasters, wars and deaths, disasters and migrations are the effects of the degeneration created by a system that does not recognize moral limits, life and nature."
Kurds in Geneva call on everyone to join today's march
The sit-in protest launched by the Kurds in front of the United Nations (UN) Office in Geneva to lift the isolation of Kurdish leader Abdullah Öcalan and to secure his freedom continues.
The sit-in has been taking place around a tent set up in front of the UN Office every Wednesday since January 25.