Leyla Güven and HDP MPs end their hunger strikes
Four deputies of the HDP have been on an indefinite hunger strike for months demanding the end of the isolation imposed on Abdullah Öcalan.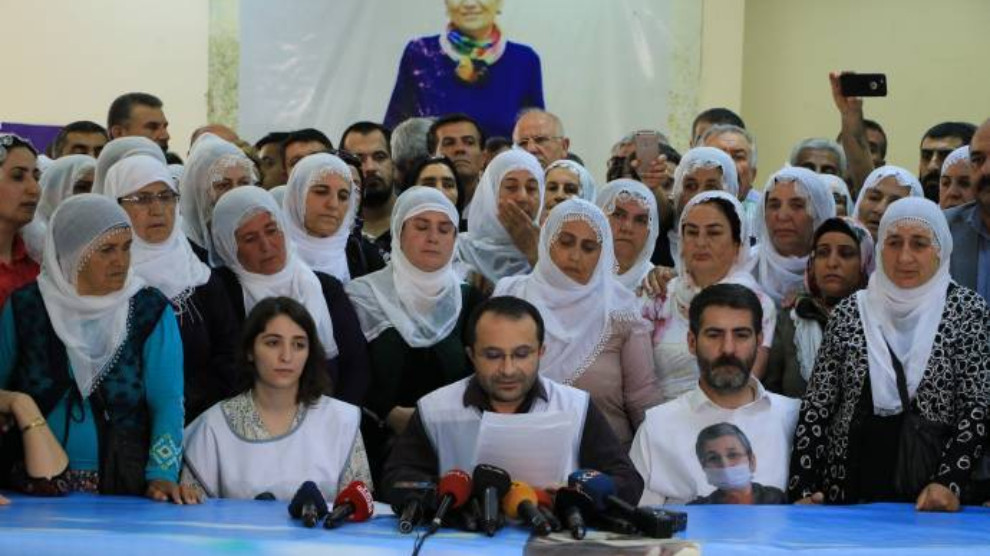 Kurdish People's Leader Abdullah Öcalan has sent a message through his lawyers, announced today, in which he called for the end of hunger strike and death fast actions.
Following Öcalan's message, Deniz Kaya on behalf of 7 thousand PKK and PAJK prisoners in Turkey and North Kurdistan, has announced ending their hunger strike and death fast actions.
DTK Co-chair and HDP MP Leyla Güven initiated the resistance going on an indefinite hunger strike while she was in Amed (Diyarbakır) Prison on 7 November 2018. She was then joined by thousands of prisoners as well as dozens of activists in Kurdistan, Europe and beyond.
Three other deputies of the HDP, Dersim Dağ, Tayyip Temel and Murat Sarısaç also joined the resistance by going on an indefinite hunger strike in the HDP offices in Amed in March.
The HDP deputies, joined by dozens of Peace Mothers, held a press conference.
Speaking here, MP Tayyip Temel said "The symbol and leader of this resistance, Leyla Güven, wanted to share her message through us."
In her message, Leyla Güven announced ending her hunger strike saying it has achieved its purpose. Güven stressed that their struggle against isolation will continue.
Güven's message reads as follows;
"I end my hunger strike but continue my fight against isolation.

The Middle East, including Kurdistan, is an absolute battlefield like a burning fireball. In this battlefield, access to a free life is prevented by the imposition of the political and cultural denial of the Kurds as well as the policies based on submission. The democratic nation perspective by the Kurdish People's leader Mr. Abdullah Öcalan is now a fact widely accepted as a solution to overcome these obstacles. As seen in the Rojava experience, which continues to shake the world, the democratic Middle East thesis includes all peoples in this geography. The most important actor for the democratic solution of the Kurdish question in the Middle East is Mr. Öcalan.

Today, in the country, the isolation, imposed on Mr. Öcalan, has spread over the society and it causes in a shame in humanity. With this point of view, I can say that our only chance is being revolutionary. Because only revolutionism can prevent this shame, and it can stand against the intolerable things and the extortion.

I, as a member of the Kurdish people, have been involved in political activities in various fields continuously since 1994. Despite all the unlawfulness we have experienced, we have continued our struggle. However, I can clearly see that I could not conduct a correct, effective, insightful, inclusive policy at the current stage.

Knowing that isolation on Mr. Öcalan was an isolation imposed on people, I started an indefinite hunger strike with my own free will. I said I would continue the hunger strike until the isolation was removed. I believe it's absolutely crucial not only for the Kurds, but for all the peoples living in this land, that the opinions of Mr. Öcalan, who has never made concessions from his peace efforts despite the absolute isolation for the last 20 years, are available for the public.

Today is the seventh month of our hunger strike. My friends, mainly Nasır Yağız, and thousands of prisoners who are comrades of those "loving life to death", stood by this action with great strength and support. Our resistance spread all over the world from Strasbourg and in this process, three other HDP MPs [joined the hunger strike] also grew the resistance with us. Thus, this action evolved into a year of resistance.

Throughout this process, we were most hurt and we felt the most heavy pain in our hearts with the martyrdom of our comrades who sacrificed their lives to make us live, becoming screams to break the silence, even with their own lives: Zülküf Gezen, Ayten Beçet, Zehra Sağlam, Medya Çınar, Yonca Akici, Siraç Yüksek, Mahsum Pamay, Ümit Acar, and Uğur Şakar. They are the real heroes and upholders of this process. I commemorate each with greatest respect and gratefulness...

I would also like to emphasize the death-fast which has reached its 27th day. Our 30 comrades have already turned their hunger strike action into a death-fast putting forth an unshaken will against the isolation.

We know that Mr. Öcalan is the only interlocutor for an honorable peace to end the suffering experienced on our lands. The aim of this hunger strike resistance was to remove the unlawful and inhumane isolation of Mr. Öcalan, and to pave the way for peace efforts that embrace the Middle East. The 7-point declaration of suggestions for solutions, publicly shared after the meeting on May 2nd, is the concrete expression of the contribution Mr. Öcalan offers to Turkey's democracy. Therefore, the termination of Imrali isolation system will benefit all people of Turkey, as much as Kurds.

In the process the mothers with white veils, and Nora, one of the mothers in Plaza De Mayo, came to visit me from Argentina, demonstrating once again that "peace" will blossom with the sacred resistance of mothers. Mothers and their children became the bud of a new hope.

At this point, resistance opened a door towards breaking the absolute isolation. PKK leader Öcalan first met with his brother, Mehmet Öcalan, and then met twice with his lawyers. However, we will continue our active struggle in different ways to completely eliminate the isolation. The burden of responsibility is now on our shoulders, on the shoulders of those who carry out active democratic politics. If politics cannot produce solutions, it only creates new problems.

While I promise to act with this responsibility and awareness, today, I end my hunger strike action. I would like to point out that our hunger strike resistance has achieved its goal. But our struggle against isolation and our struggle for social peace will continue in all areas. This struggle must lead to an honorable peace.

I individually thank to everyone who stood by me. I would like to thank to everyone who became our voice, who believed in us and did not lose hope under this fascistic atmosphere of oppression. But first of all, I would like to thank the Mothers for Peace and all women who did not leave the streets despite all attacks and repression. "Hope is more precious than victory;" we hope, we succeed."
Temel then announced that they -the three deputies and dozens of activists who started hunger strike in prison and continue their resistance at their homes now- have also ended their actions.