Mass protests against Turkish invasion across Europe today
The decision for protests against the Turkish occupation was taken last weekend at a joint meeting of 34 Kurdish parties and organizations.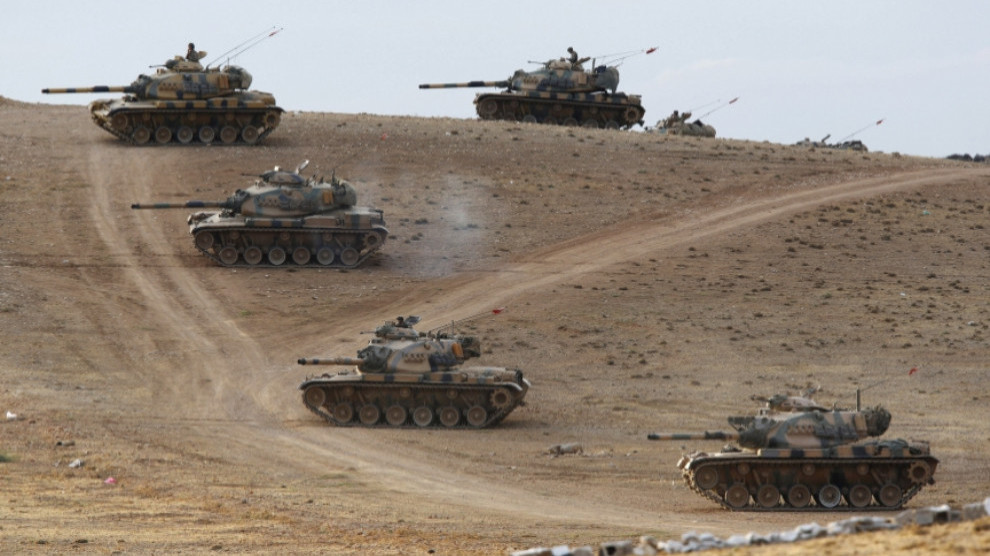 Kurds and their friends in Europe will be taking to the streets today in several countries to protest against the Turkish state's increased attacks and threats of invasion against North and East Syria, and occupation war in South Kurdistan.
Besides calling for action to stop Turkey's efforts to target the population and destroy the system built in the region, Kurds and their friends will be voicing their support for the people of northern and eastern Syria have loudly expressed their determination to resist everywhere in case of an occupation.
Demonstrations will be staged in the following locations today;
GERMANY
BERLIN
March
Time: 17:00
Place: Potsdamerplatz, Berlin
HAMBURG
March
Time: 16:00
Place: Schtenhsanz Station, Hamburg
BREMEN
Informative stand
7 to 10 August
Mon-Tue-Wed: 10:00 to 18:00
Thu-Fri-Sat: 12:00 to 18:00
Place: Marktplatz
HANNOVER
Informative stand
Monday to Thursday
Time: 14:00 to 19:00
Place: The train station HBF
On August 13 a march will start from Hannover HBF.
STUTTGART
March
Time: 16:00
Place: Lautenschlagerstr, 70173 Stuttgart
MUNICH
Rally
Time: 16:00
Place: Sendlinger Str. 8
FRANKFURT
March
Time: 14:30
Place: HBF
DUSSELDORF
Rally
Time: 14:00
Place: Friedrich-Ebert-Strasse Immermannhof, Dusseldorf
SWEDEN
Örebro
Time: 1:00 p.m.
Place: Våghustårget

Gothenburg
Time: 1:00 p.m.
Place: Brunsparken

Malmö
Time: 1:00 p.m.
Place: Triangeln, 21143 Malmö

Stockholm
Time: 1:00 p.m.
Place: Norra Bantorget
FRANCE
Marseille
Time: 7:00 p.m.
Place: Place Canebière

Bordeaux
Time: 6:00 p.m.
Place: Place Théâtre

Paris
Time: 3:00 p.m.
Place: Gar de l'est

Rennes
Time: 4:00 p.m.
Place: Place you Colombie

Draguignan
Time: 6:00 p.m.
Place: In front of the post office

NETHERLANDS
Amsterdam
Time: 3:00 p.m.
Place: Waterlooplein

AUSTRIA
Graz
Time: 4:00 p.m.
Place: South Tyrolean Square

Vienna
Time: 5:00 p.m.
Place: Opera/Karlsplatz

BELGIUM
Brussels
Time: 2:00 p.m.
Place: Gare of the Central