Mayor of Istanbul in Amed: This is a dangerous discrimination
Istanbul Mayor Ekrem Imamoğlu of the CHP met in Amed with HDP mayors of Amed and Mardin suspended by the Turkish Ministry of Interior.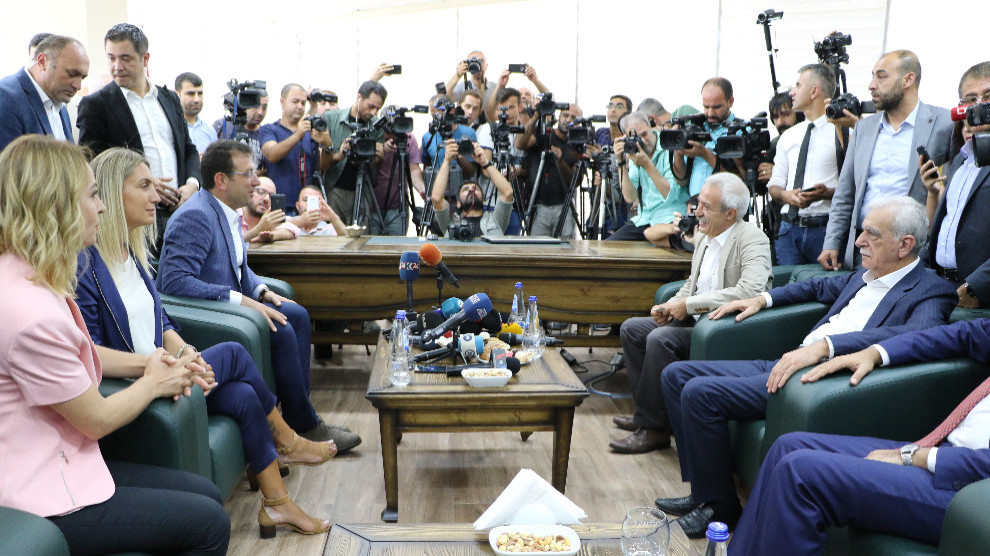 Almost two weeks after the removal of elected co-mayors in the Kurdish cities of Amed (Diyarbakır), Mardin and Van, CHP (Republican People's Party) Mayor of Istanbul Ekrem Imamoğlu visited Amed today and met with Amed co-mayor Selçuk Mızraklı and Mardin co-mayor Ahmet Türk.
At a press conference at the CHP headquarters in Amed, Imamoğlu condemned the appointment of trustees in the place of the democratically elected mayors.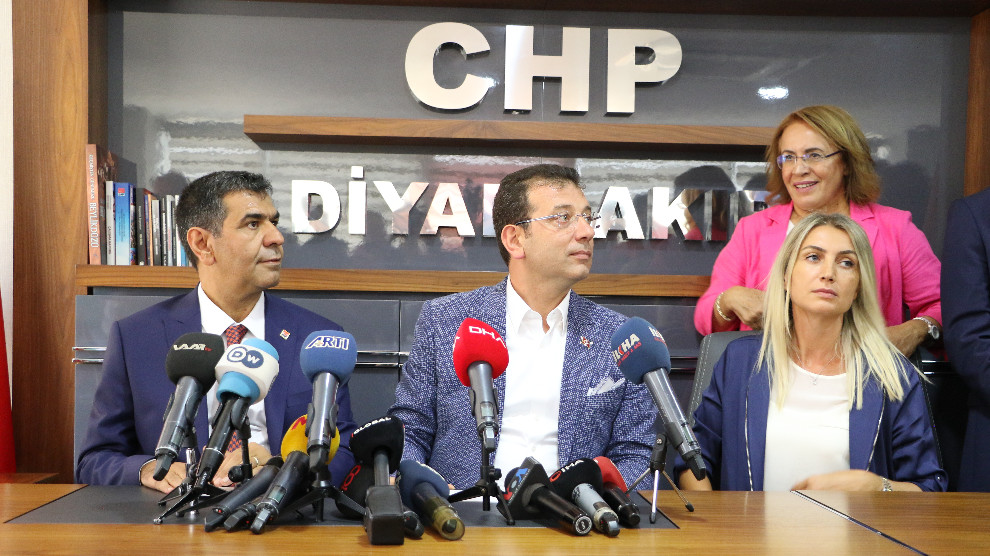 The government considers itself to be superior to the will of the people, said Imamoğlu who was recognized as the mayor of Istanbul only after his second election victory with the support of the HDP in June.
Imamoğlu said; "We are the citizens of a country that has paid heavy prices for a ruling based on the national will, not by a family, a group or a circle. Those who see themselves superior to national will are going to pay the heaviest price at the ballots. Appointment of trustees to replace elected mayors is negligence. There will be neither democracy nor rule of law unless those elected leave the office only to be replaced by the newly-elected. The will of the people cannot be ignored. We have to reclaim democracy and national will. Those governing this country must recognize the will of 82 million people living in this country."
Imamoğlu continued: "All those elected by the people have equal rights and authorities. Discriminating some of them and subjecting them to different rules cannot be accepted. This is a dangerous discrimination. The treatment against the mayors and electorates of Diyarbakır, Mardin and Van manifests a discrimination of this kind."
The mayor of Istanbul highlighted the necessity to stand against injustice and unlawfulness together, adding that in the contrary case a righteous society cannot be generated.
"This is a struggle for justice and democracy. It is a struggle to reclaim the will of the nation, to reclaim republic and democracy. Without engaging in any form of fanaticism, and fearlessly and undauntedly, we will continue to defend the values of republic and democracy on every basis. We will never stop our search for peace and freedom."
Imamoğlu remarked that; "Bringing democracy into existence in one single city does not mean bringing it into existence in all of the country. If there will be democracy, it must exist in Mardin, Van, Diyarbakır, Istanbul and İzmir altogether."
After the press conference, Imamoğlu visited the grave of human rights lawyer and Diyarbakır Bar President Tahir Elçi who was murdered in front of the Four-legged Minaret in Sur district on 28 November 2015.
The mayor of Istanbul then met with Selçuk Mızraklı and Ahmet Türk in Kayapınar District Municipality.
During the meeting Imamoğlu gave messages of unity and solidarity, saying; "We believe in democracy and the rule of law. We must give an increased struggle for these values. We are here only to give you strength. It is being talked about the possibility of seizure of Istanbul Municipality as well. This won't cause me any personal concerns but we are concerned over the harm given to the democracy of the country. As long as democracy and local administrations are consolidated, I believe that we can overcome all the problems on these lands. I present you the compliments of the 16 million people in Istanbul, where people from all over the country live together. I hope this injustice will be brought to an end. This process is never for the good of the government or the rulers themselves, nor for the good of the country and the nation. This wrongful act should be rectified as soon as possible. The injustice done to you is done to the democracy of the country."
Speaking after, Mardin co-mayor Ahmet Türk said; "We want our peoples to unite around common values. The Kurdish people joined their will with the Turkish people and manifested their demand to live together. Some people are engaged in efforts to eliminate all the means for democracy. Nationalists are creating enemies in the society by declaring some people traitors and trying to sustain their own ruling."
Remarking that justice cannot be established without leading a joint struggle, Türk added the following; "We want to create a democratic future and Turkey. we cannot build democracy by thinking what others will say. Naturally, we can be in different ideological and political positions, which is a requirement of democracy, but we must fight basing on common democratic values for the democratic future of our peoples."