Messages of Demirtaş, Yüksekdağ and Baluken to the HDP Congress
The 4th Ordinary Congress of the Peoples' Democratic Party (HDP) is being held in Ankara to elect the co-chairs and central party officials of the party.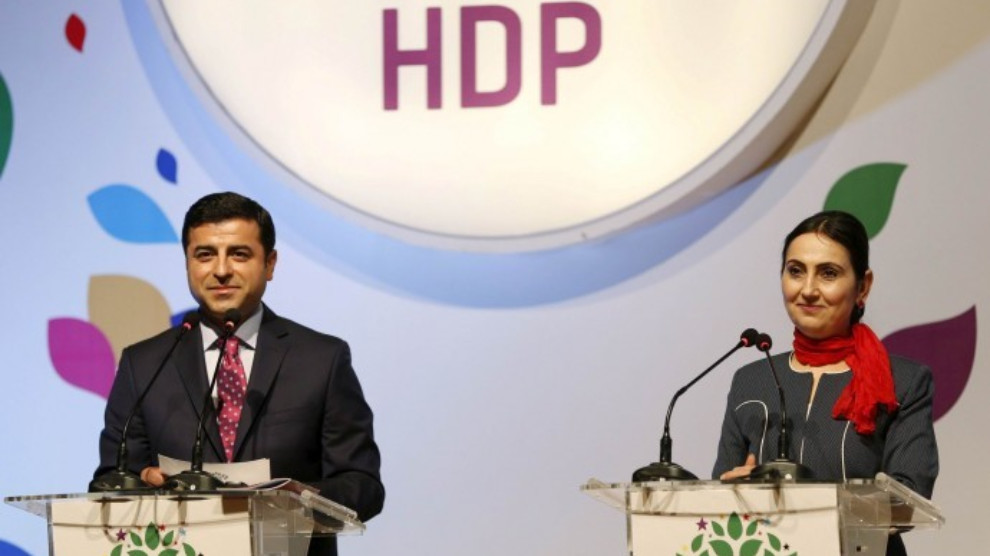 The messages of former HDP Co-Chair Selahattin Demirtaş, Figen Yüsekdağ and former Parliamentary Group Deputy İdris Baluken, who have been imprisoned since November 2016, were shared with the public today at the HDP 4th Ordinary Congress taking place in Ankara.
The congress is hosting guests from 28 countries including Tunisia, Palestine, Jordan, Morocco, Cyprus, France, Galicia, Germany, Australia, Lebanon, Greece, Basque Country, Egypt, Italy, Catalonia, Denmark, Norway, England, Scotland, Portugal, Finland, Switzerland, Spain, Armenia and Iraq.
Representatives of more than 30 political parties and several women's organisations from the Middle East are attending the congress.
A summary of imprisoned former HDP co-chairs Selahattin Demirtaş and Figen Yüksekdağ's message is as follows:
The council of our 4th Grand Ordinary Congress, our fellow delegates, our dear domestic and overseas guests who accompany us in solidarity, dear representatives of embassies and media, and our dear peoples, we cordially greet you! And we wish all a successful congress.
We know that our odyssey has been rough, our ship has taken some heavy hits. Our captains have been arrested, alongside our senior crew. But what they don't know is that the passengers of this ship are of tremendous resilience, and each is stronger than the next. Neither the wheelhouse was abandoned, nor the engine room. Nimrod's party failed to stop the march of millions, and now they have split up into three; but NOAH'S ARK stands tall, sailing, unwavering, towards its destination, driven by an unbreakable bond!
We adore those who have built the ship, and we adore those who are sailing on it. We salute those who have fallen in this odyssey and those who have been captured. We have made a promise to harbour this ship; thus we shall keep our promise. Now, the mission is to establish peoples' rule, and godspeed to all of us.
We may be imprisoned right now, but we know that we are burning in flames of sorrow. It's you, the younger ones among us, who have taught us resistance. It's you, women, mothers, who have taught us to stand tall. We have seen the hope in your eyes, in city squares where chants of rebellion echoed. We love you, against all odds, and we have missed you dearly.
May our hearts and our souls be with you. May our word, our pens, and our prayers be with you. We send forth our love and regards to each of you. We congratulate our co-chairs and the party organization, with them we stand in solidarity.
Godspeed Peoples' Democratic Party! May you sail towards your destination!
Selahattin Demirtaş (Edirne Prison) & Figen Yüksekdağ (Kandıra Prison)
A summary of imprisoned MP İdris Baluken's message:
I believe that our congress will contribute a great deal to our struggle for peace, freedom and democracy.
As long as the love of peace, democracy and freedom of our peoples and of all the oppressed continues to grow, no power can harm our party, silence its voice, or prevent the HDP from its dignified march.
We would like you to know that we also continue our efforts with great morale, will and determination in prison conditions.
Long live our struggle for peace, democracy and freedom,
Biji Biratiye Gelan
İdris Baluken, Sincan Prison