National conference against occupation of Kurdistan begins
The Kurdish National conference against occupation of Kurdistan has kicked off in Amsterdam with the participation of representatives of several parties from four regions of Kurdistan as well as exiled HDP parliamentarians and co-mayors.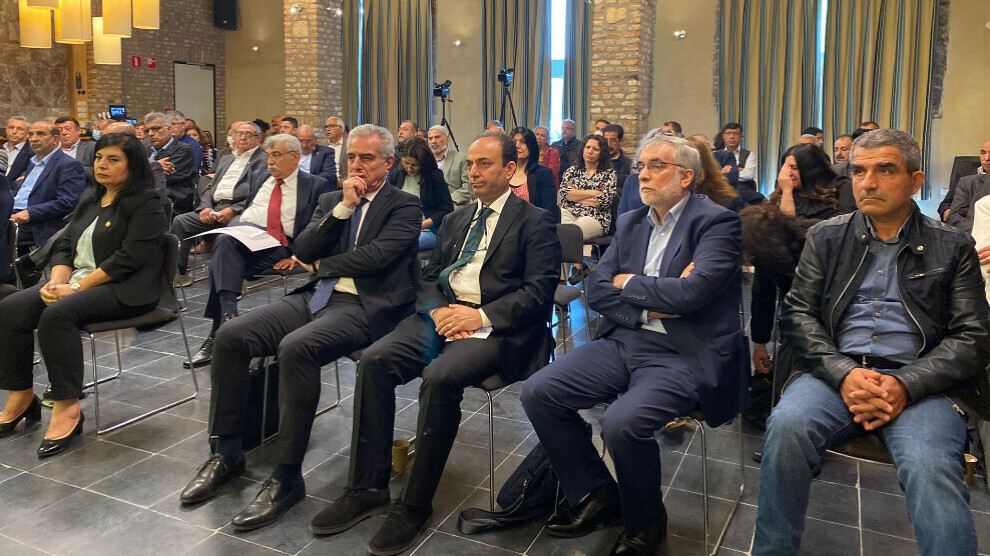 Kurdish party representatives and intellectuals from four parts of Kurdistan gathered in the Netherlands for a national conference to oppose the invasion of Kurdistan.
The Platforma li diji Dagirkeriye, a European organization, hosts a conference in the Netherlands today.
Exiled HDP parliamentarians and co-mayors attend the conference, as well as representatives of several parties from all four regions of Kurdistan.
Refik Gefur, speaking on behalf of the platform during the conference, indicated that the platform is unaffiliated with any party or group and stated, "There are 1200 signatories behind this platform which is made up of party representatives, intellectuals and academics. We are not associated with any political party or group. Our goal is to unite Kurdish parties together and to assure unity of struggle against the invaders. Because we Kurds are fighting for our lives. Everyone should act with this level of consciousness."
Journalist Fehim Işık, who spoke on behalf of the Council, stated that the platform's goal was to find means to ensure Kurdish unity against the invaders.
Shex Şemal of the Patriotic Union of Kurdistan (PUK) stated that everyone should reject the invasions of Kurdistan and said, "This is a life-or-death struggle. Kurdish organizations should put aside party and ideological differences and focus on national concerns."
ASYA ABDULLAH: OUR ATTITUDE MUST BE CLEAR
Asya Abdullah, speaking on behalf of KONGRA-STAR, noted in her statement that the Kurds are in a critical era, adding, "Today, a significant struggle is being waged against the invaders. Every day, we experience the loss of dozens of martyrs. These values must be safeguarded. As a result, all policies that do not take a stand against the invaders in Kurdistan must be opposed. This is an unquestionable position. In Kurdistan, the address and name of the occupation is clear. We are speaking here now, yet our society is suffering. We are martyred, we are killed, we are exiled, and we are imprisoned. It is also our responsibility to fight the invaders."
KARAMUS: "THERE MUST BE A JOINT FIGHT"
KNK (Kurdistan National Congress) Co-Chair Ahmet Karamus said:"As the KNK, we value the leadership of Kurdish intellectuals in such organizations. Academics and intellectuals are the people who can bring about national unity. These circles should contact all parties and organizations on an equal footing in order to ensure unification. This section should foster conversation between all parties and wage a common struggle against our enemies. We must carefully read the enemy's annihilation and respond accordingly. For this very reason, all Kurdish parties must struggle qccordingly and do their part."
AYDAR: WE FIGHT AGAINST INVASIONS ON FOUR FRONTS
Zübeyir Aydar, a member of the KCK Executive Council, saluted the platform on behalf of those battling on the front lines against the invaders, saying:
"Such efforts are vital to us, and we support them. We are engaged in a long-term and all-encompassing struggle. We are fighting the invaders in four different parts of Kurdistan. We do not confine colonialism to a single state. We regard Turkey, Iraq, Iran, and Syria as colonial powers and we fight them. From Dersim to Kars, from Afrin to Shengal and Kirkuk, we must struggle against those forces.
This is how we are currently fighting. Tens of thousands of our youth are fighting on the front lines. Leader Apo (Abdullah Öcalan) is the originator of this concept."
Aydar called for a collective struggle, emphasizing that they reject all relations with the invaders under any circumstances.
'THE INVADERS' CRIMES SHOULD BE BROUGHT UP IN THE INTERNATIONAL ARENA'
Fuad Cemal, speaking on behalf of GORRAN, mentioned Kurdish history, saying, "Throughout history, invaders have committed massacres in Kurdistan. Thousands of people have been slaughtered, including in Anfal and Halabja. This scenario is still ongoing. Everyone must work together to put an end to this."
In her remarks, Kurdish-PEN Honorary President Berivan Doski stated that the invaders' atrocities in Kurdistan should be brought to the international stage.
KKP-BAKUR, on the other hand, underlined the significance of fighting together.
The conference continues with the attendees' speeches.