Over 160 people detained in Istanbul on May Day
According to official figures, Turkish police detained 164 demonstrators in Istanbul on May 1.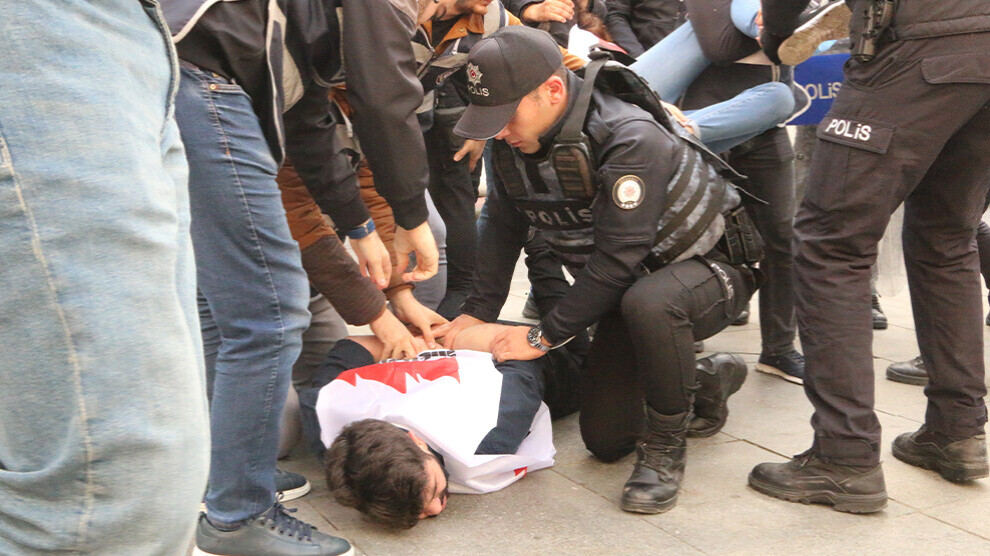 According to official figures, Turkish police detained 164 demonstrators in Istanbul on May 1. They wanted to take part in an unauthorized protest despite warnings, the Istanbul governor's office said today, explaining the action.
The arrests were made partly with the use of massive violence and were directed against activists of left-wing structures. Most of the arrests occurred in the Şişli district. Members of the Revolutionary Party (Devrimci Partisi) met at Osmanbey metro station to walk to the symbolic Taksim Square with a banner reading "In Socialism Lies Hope - Long Live May Day" and Turkish and Kurdish slogans. The group was encircled by police officers, and nearly ten people were detained by the use of force and taken away with handcuffs on their backs.
Two journalists were also taken into custody while covering the demonstration. Mezopotamya Agency (MA) correspondent Doğan Kaynak and Rozerin Gültekin from the women's news agency JinNews were put in a police van and their phones were taken away. After a while, they were released.

In Şişli,Harbiye, several dozen members of the United Fighting Forces (Birleşik Mücadele Güçleri, BMG) alliance were intercepted by police as they attempted to march to Taksim. Similarly, students on their way from Beşiktaş to Taksim and members of the Social Freedom Party (TÖP) were stopped by police. Several people were taken into custody, including TÖP spokesperson Perihan Koca.
Square widely cordoned off
While the state forces in Istanbul had previously cordoned off access to Taksim Square as they do every year, an authorized demonstration on the occasion of International Workers' Day is taking place in Maltepe. Since the anti-government Gezi protests in 2013, the Turkish leadership has not allowed any May Day demonstrations in Taksim Square. The authorities only allowed union representatives to lay a wreath there. The 2013 protests had initially been directed against the development of Gezi Park in Taksim. They expanded into nationwide demonstrations against the authoritarian policies of then-Prime Minister and now President Recep Tayyip Erdogan. The government had the protests brutally suppressed.
Square with symbolic meaning
Taksim Square in the center of Istanbul has a symbolic meaning. A massacre took place there on May 1, 1977, when well over 500,000 people from various provinces of the country took part in a Labor Day demonstration. Many of them had not even entered the square when the first shots were fired. Security forces then attacked with armored vehicles, firing gas grenades and using water cannons. The number of casualties is still a disputed issue; according to official figures, 37 people were killed and about 200 injured. Some people remained on the spot, others ran away, were crowded into corners and run over by the armored vehicles. More than 500 people were arrested.