Protest against Turkish Foreign Minister in Berlin
There were protests in front of the Foreign Ministry in Berlin against the visit of the Turkish ministers Çavuşoglu and Ersoy.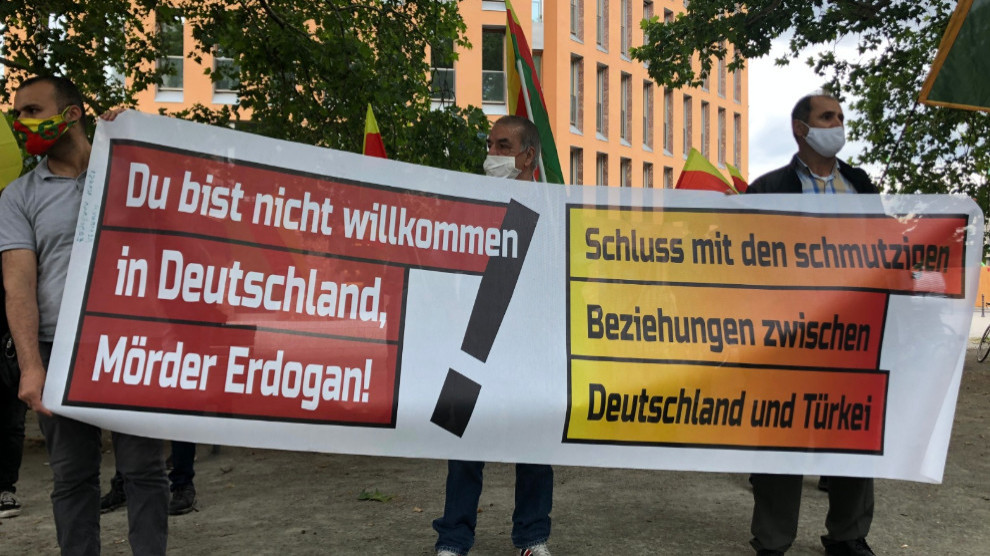 In front of the Foreign Office in Berlin, there were protests against the visit of the Turkish Foreign Minister Mevlüt Çavuşoglu and the Minister of Tourism Nuri Ersoy. At the rally organized by the Free Kurdish Community Berlin and the DEST-DAN Women's Council, the left-wing politician Hakan Taş from Berlin gave a short speech.
In a joint statement of DEST-DAN and the Women Defend Rojava campaign it was pointed out that the Turkish state is financing the war in Kurdistan with the tourism revenues. The German government and holidaymakers from Germany were asked to take this fact into account. The Foreign Office should not make itself an accomplice in the Turkish massacres in Kurdistan, the war is being fought with German weapons, the two women's organisations said.
PYD (Democratic Union Party) Berlin representative Süleyman Haco also appealed to the German government not to make any dirty agreements with the Turkish state. "German support is being used in the Middle East as a weapon to kill the civilian population. In times of distress, the Turkish state always turns to Germany, but the German government should no longer be complicit," the PYD representative said.
At the rally, "Murderer Erdogan" and "Germany finances, Erdogan bombs" were repeatedly chanted.