Protests in Iran continue
Protests have been going on in Iran since the 200 percent increase in gasoline last week. Demos have been going on especially in Tehran, Tabriz, Kerec, Kirman, Kirmanshah, Isfahan, Shiraz, Bircend, Gecsaran, Adim, Ahvaz, Zencan, Yazd.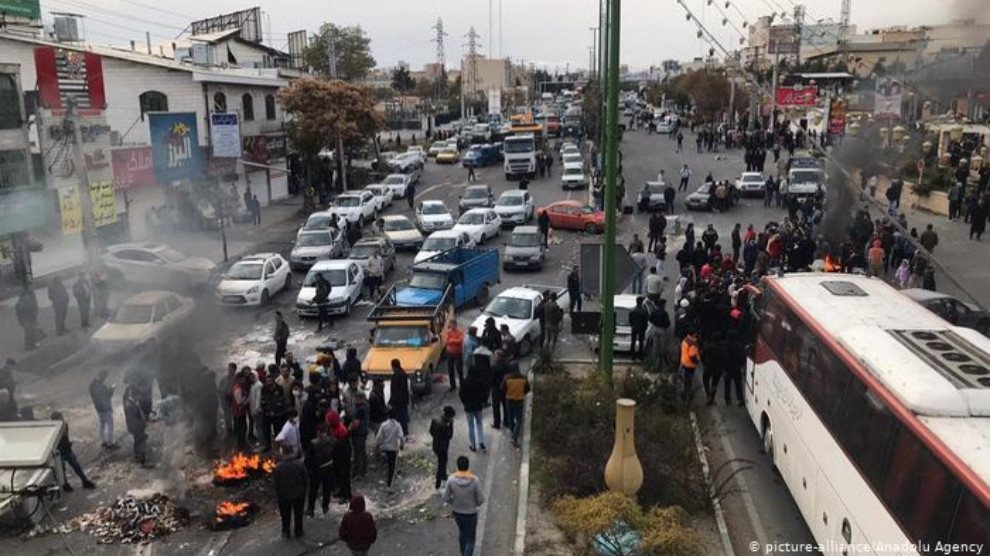 The demonstrations continued in the 31 provinces of Iran and many of its cities, particularly in the cities of Rojhilat.
On Sunday, demonstrations were held in almost all cities and towns of Iran and Rojhilat. Some 1080 demos across the country, were reported including in Tehran, Tabriz, Mashhad, Ahvaz, Isfahan, Yazd, Kirman, Kirmansah and Kerec.
Students joined protests
Schools remained closed in many cities due to the demonstrations in the country. Students joined the demonstrations in many cities. Hundreds of students gathered at the university campus in Tabriz and protested the increase in gasoline price.
Shops closed
In most of the cities shops and trade places remained closed.  

Tehran was one of the cities where shopkeepers supported the demonstrations by closing their shutters. Tehran Bazaar Tradesman Union President Ahmed Kerimi Isfahani, said that because of security and stability of the market they will not open.
Official institutions set on fire
More than 100 banks and more than 50 shops were set on fire. Also dozens of police vehicles and Besic headquarters were set on fire.
Number of dead increasing
Iranian regime forces attacked the demonstrators with live rounds of ammunition and as a result of the attacks a large number of people died. So far, at least 12 people have been killed and hundreds of people were injured. According to some sources, the number of dead is over 30. According to figures given by Iranian official sources, more than 1000 people have been detained during the three days demonstrations.
Internet line cut
On Saturday night, the Ministry of Telecommunications decided to block access to the Internet for 24 hours. Internet lines have been cut in many centers in Iran thus making it almost impossible to get news.
Khamenei defended increase in gasoline price
Iran's religious leader Ayatollah Seyid Ali Khamenei supported the increase in gasoline and reacted to the demonstrations.
In his speech broadcast on Iranian state television, Khamenei said that the decision to raise gasoline was taken after expert views and said it should be implemented, but asked the authorities to prevent price increases in other products.
Bokan MP resigned
Qasim Osmani, Bokan deputy in the Iranian Parliament, resigned. Osmani said the increase in gasoline without parliamentary approval, was not acceptable. The deputy resigned saying that if parliament is not taken into account, there is no point to be and MP. Osmani's resignation has not yet been approved by parliament.